Background
Applying for college is a stressful process for high school seniors and their parents. Harvard College is the oldest and arguably the nation's most competitive college. In addition to answering a series of questions in their application, every prospective freshman is offered a personal interview, usually with a local Harvard alum.
Challenge
Every year, 40,000 applicants apply for admissions. Managing the assignments of candidates with interviewers is a daunting task. Assigning candidates to interviewers requires tracking who's available, how many interviews they can handle, geographical constraints, scheduling issues, and personal conflicts with schools and candidates. After assignments are mode, we need to also track if the interviewer accepted or declined it, or send reminders if there's no response, and understanding any declines to improve future assignments. Finally, one needs to track the process until interview reports are actually submitted.
FMS Solution
FMS created and hosts a software application to manage the interview process for Harvard College by matching thousands of applicants with interviewers. The system collects the paperwork and provides the schools committee administrators with status updates throughout the process.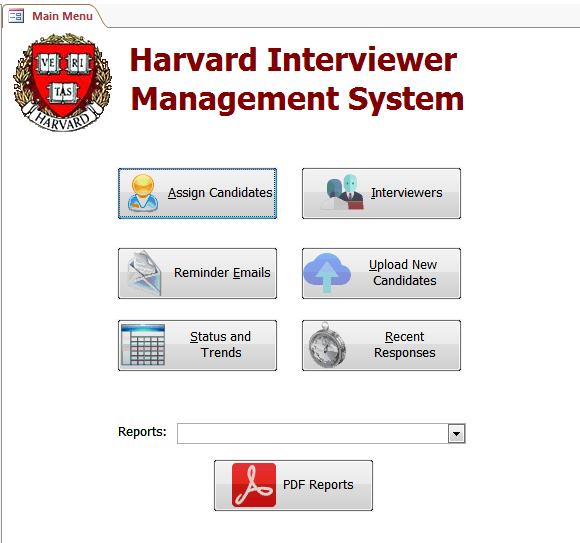 Key Features
Rather than having a large number of emails assigning students to interviewers, then verifying their acceptance, and other steps throughout the process, a desktop and web based system is implemented to:
Provide an online sign-up and approval process for alumni wishing to interview prospective students
Continually upload lists of candidates provided by Cambridge throughout the application season
Match candidates to interviewers while spreading the workload geographically noting interviewer preferences and conflicts
Minimize assignments of multiple candidates from one high school to an interviewer
Send personalized emails to notify each interviewer of his or her candidates, along with reminder emails if no response is received
Allow interviewers a secure online screen to view all their candidate assignments to accept or decline them, and upload their interview write-ups
Provide a simplified way to reassign candidates to new interviewers
Handle candidates who withdraw
Generate management reports to track the status of the entire process, so problems are detected as early as possible
Technology Platforms
FMS created this secure web site using Visual Studio .NET and Microsoft SQL Server. A Microsoft Access administrative interface also assists with the process. When a candidate is assigned, the interviewer is emailed information on the student using our Total Access Emailer program. The personalized email directs them to the web site to accept or decline the assignment. If they accept, they can upload their interview details online. A variety of SQL Server Reporting Services reports let administrators monitor all the activity and jump in when help is needed.
Best wishes to all who apply!