The Best Microsoft Access Development Services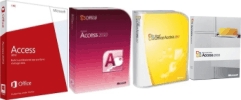 As the world's leading developer of Microsoft Access products, we have extensive experience creating Microsoft Access applications. With tens of thousands of customers in over 100 countries, our products address a variety of customer needs and environments, often in places we've never visited. That requires skilled Microsoft Access developers, knowledge, and a rigorous process for software excellence.
Our consulting team provides this expertise when creating custom Microsoft Access applications for your mission. Easily deploy productivity enhancing solutions that leverage Access with Excel, Exchange/Outlook/email, PowerPoint, SharePoint, and Word. We've even extended Microsoft Access to the Internet cloud with Microsoft Azure to share your data and files with external contacts.
Whether it's single or multi-user, a simple desktop solution, or migrating and integrating with your enterprise Microsoft SQL Server databases, let our Microsoft Access programmers and Microsoft MVPs assist you.
Full-Time Developers On Staff
Our Microsoft Access database developers are full time FMS employees, located at our headquarters, and experienced with all types of Access applications. Leverage our decades of MS Access programming expertise and extensive code library to create great Access solutions that are cost effective, timely, fast, secure, and maintainable as your needs evolve.
Examples of Our Custom Solutions using Microsoft Access
We have created hundreds of custom Microsoft Access database solutions for a wide range of clients. Here are just a few examples:
National Archives: Inspections and Reports

The National Archives and Records Administration (NARA) uses our solution to manage their inspection results to improve reporting and operational quality.
Consolidating Multiple Databases into One

The Association of the Wall and Ceiling Industry has 2,000+ members of wall and ceiling contractors, suppliers and manufacturers. AWCI had a common problem of multiple but overlapping databases that evolved over time.
FMS was called to consolidate and centralize the data storage and applications to maximize the value of their data and IT investments.
Mercer Consulting: Human Resources

Mercer is a global provider of human resources consulting and outsourcing.
FMS leveraged an existing solution their internal team created, to make it commercial quality, more maintainable, and localizable for distribution to their worldwide customer base. Learn how we worked with them in this case study.
Storing and Analyzing Annual Survey Data of Association Members

For over a decade, FMS in conjunction with PricewaterhouseCoopers, has provided a secure database for the National Association of Broadcasters to analyze their annual members surveys.
Our solution takes their highly confidential member data collected by PWC and provides it in a secure platform for analysis. Lasting over several technology cycles with minimal expense, the solution has evolved to meet the needs of this rapidly changing industry.
Upsizing Microsoft Access Databases to SQL Server

We are world class technical experts on migrating Microsoft Access databases to SQL Server.
We were hired by the Microsoft SQL Server team to spearhead a national campaign to share our experience and educate the community about upsizing Access databases to SQL Server.
Microsoft Access Web Apps

We have integrated Microsoft Access with credit card processing. If you have an ordering or payment system built in Access and an internet connection, we can link Access with an online credit card processer like Authorize.Net to automate credit card payments, authorizations, subscriptions, returns, and other tasks.
Advanced security features are available to eliminate the need to save your customers' actual credit card numbers, while still being able to charge their credit card once or on a recurring basis.
Leveraging the Windows Desktop and the Web to Protect Children

The National Center for Missing and Exploited Children tracks and locates missing children, and helps prosecute criminals.
We created a Microsoft Access application to help them simplify the search for suspects across all the different state criminal registries, web search platforms like Google, newsgroups, and other places where suspects may be lurking. The productivity and accuracy impact has been tremendous for the NCMEC investigators. Click below to see how we got involved.
Helping Public Schools Claim Federal Impact Aid Funding

Because federal property is not subject to local taxes, the federal government compensates municipalities for federal students and workers through their Impact Aid program. Every year, school systems need to support claims to receive this payment. The Washington DC Public Schools (DCPS) sends surveys to determine students who live or have parents who work on federal property.
Our multiuser Impact Aid Survey Form software transformed a manual process into a more efficient, accurate and timely solution. It led to increased funding well in excess of the cost of our application, and continues to payoff every year.
ACCDE and MDE Database Recovery

Do you only have the ACCDE or MDE database files but can't find the original ACCDB and MDB files that created them?
Without them, you can't update or enhance your databases.
We provide a database recovery service to convert ACCDE and MDE databases to ACCDB and MDB files.
Not every file can be recovered (e.g. no module comments), but we can usually get you back the core Access database, forms, reports, and VBA module code.
We need to perform an assessment of a few hours to see if a recovery is possible, and if so provide the cost for doing it. This service is only provided if you have ownership of the solution and intellectual property.
For more information, Contact us or visit our MS Access Consulting Services page and discover why even Microsoft chooses FMS for custom Access solutions.