Your Email Address is Used for the SMTP Relay Test
Total Access Emailer verifies your SMTP server by sending a test email when you start an email blast and when you save SMTP settings under Options. By default, it sends an email from our test email address (taemailersample@fmsinc.com) to that address. This may cause problems for some SMTP servers that reject relaying emails with our address as the FROM address. In previous builds of Total Access Emailer, we provided a workaround for this by letting you include a Temail.txt file with an alternate email address. That email address was used as the FROM and TO address for the test. This is now simplified.
Total Access Emailer now uses the email address you specify in your SMTP settings as the FROM address and sends a test message to our taemailersample@fmsinc.com address. For instance, in the example below, the FROM address is MyName@MyDomain.com eliminating your need to specify that in a Temail.txt file.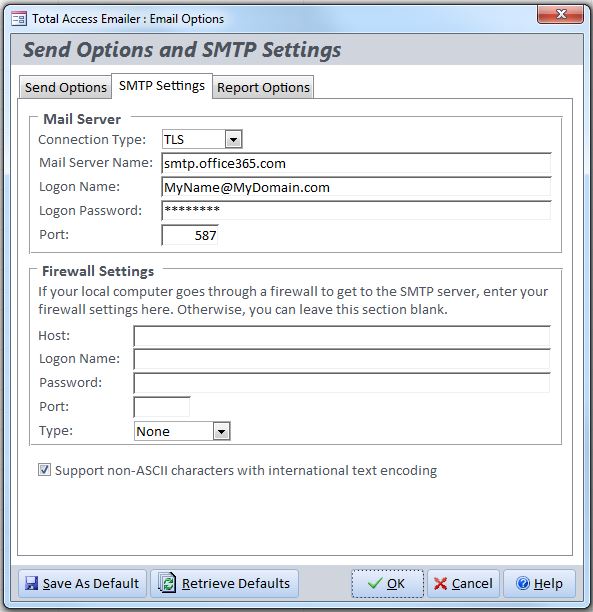 Setting SMTP Settings in Total Access Emailer
If you do not want to send the test email to our email address, you can override this by creating a TemailTo.txt file with an alternate email address. If you choose this, make sure the email address is not in your domain, as the SMTP test should be testing an external email address. A successful email to an internal account does not validate sending an external email.
If your SMTP server doesn't require a logon name, you can still set the Logon Name to the email address you want for the FROM address. If you specify a Logon Name without a password, it is ignored for logging into the SMTP server. The Manual and Help file are updated with this information.
---
Datasheet Settings Preserved
When viewing the datasheets, if you change the column settings, sort order, and/or filter they are saved where appropriate for the next time you open the form.
Main Form
For the main list of email blasts, changes you make to the column widths, column order, sort order, and/or filter are preserved the next time you start the Total Access Emailer add-in. This makes it easy to display your most common email blasts in the order you want them displayed.
Remove the Filter
To see all your saved email blasts, remove the filter. You may also need to do this if you create new email blast or duplicate an existing one, and the new settings aren't included in your filter. Turn off the filter by clicking the Toggle Filter option from the ribbon or the datasheet navigation bar: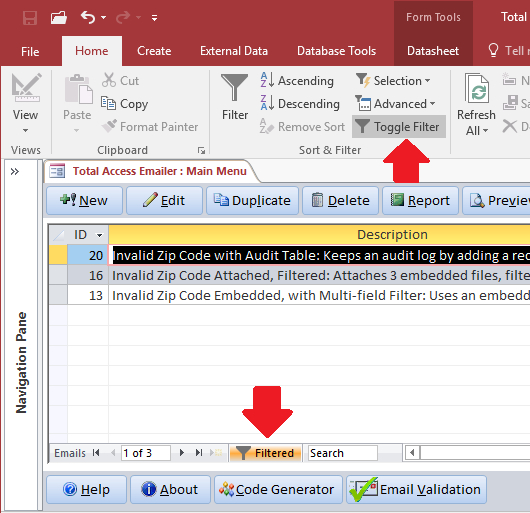 Other Screens
Column settings, but not filters, are preserved on other datasheet screens such as the lists when selecting multiple email blasts to send and view email blast results.
---
Preview Text Updated
Preview lets you test your email blasts by sending the emails to your own email address. That lets you see exactly what your contacts receive including attached files.
While the preview is processing, it said it was "Sending Email ..." to your contact's email address, which was frightening to some. Rest assured, it never did that during the preview. To avoid confusion, the description now says "Previewing Email ..."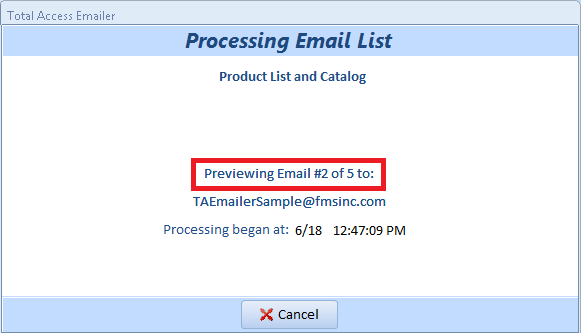 Explicitly Show that the Email is Being Previewed
---
Additional Enhancements
Sample database updated with TLS option and larger fonts
When setting an email blast, the FROM email address is validated for an acceptable email format
When the name of an attachment file includes invalid characters (e.g. :*?"<>|), a message indicates that problem rather than saying the file can't be found.
Procedure TotalAccessEmailer_SendOne has two parameters (strMessageHTML and strHTMLFile) that are optional but were previously required.
Cosmetic changes to increase font size, widen combo boxes, font consistency, and support for higher resolution monitors
Manual and help file updated