Find Differences Between Any Two Microsoft Access Databases or Objects!
Losing your work or someone else's work, or not realizing what changed can cost you considerable headaches, money, and embarrassment. Trying to manually compare Microsoft Access objects is slow and error prone. Total Access Detective handles these issues for you thoroughly and quickly.
Total Access Detective reveals exactly what changed between Microsoft Access databases, objects, code, and data!
The World's Best Difference Detector for Microsoft Access
In its seventh major release since its debut in 1995, Total Access Detective is trusted by the Microsoft Access community around the world. With each version, we've added more functionality to maximize your control of your Microsoft Access databases, and improve your productivity.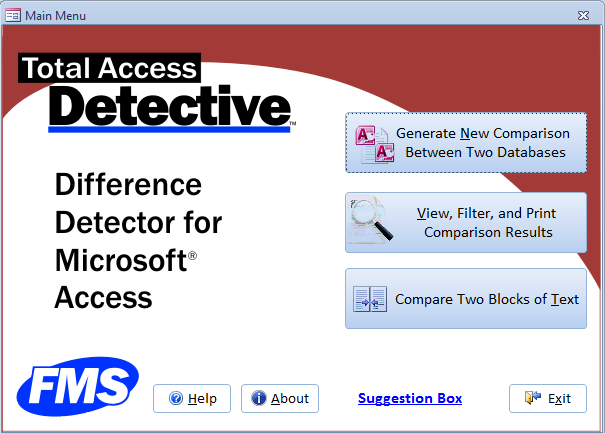 SHIPPING FOR MICROSOFT ACCESS 2016 and 2013
New Features:
Supports Access 2016 and 2013's 32 and 64 bit versions
Supports all Access database formats used by your Access version
Module and text comparison option to ignore line numbers
Search bar to simplify filtering of names and properties
Simplified selection of linked tables in database comparison
More properties can be unselected from comparison
List of procedures with differences
Compare data macros
Improved user interface
New manual and help file
Discover why so many Microsoft Access users and developers rely on Total Access Detective to pinpoint exactly what changed in their Access databases.
Eliminate the guesswork and get on with your real work!
---
What Total Access Detective Does
Find differences between any two objects in one Microsoft Access database, including fields, controls, properties, macro lines, module code, and data.
Find differences between two Access databases (ACCDB, MDB, or ADP) with lists of objects in one database and not the other, and detailed comparison among identically named objects (you select the objects or all objects to compare)
Find differences between two blocks of text from text files on disk or the text you copy and paste. Compare them as plain text or modules to use our VBA parser to perform procedure by procedure comparisons.
After comparing two tables for data differences, you can create a new table that combines the records from your tables applying your rules of which table's new and modified records to keep.
Automate database comparisons from a Windows command line (shortcut or bat file) where you can specify the two databases to compare and where to store the results
---
How You Run it
Total Access Detective is available depending on whether you want to find differences between objects in one database or between databases.
Comparing Objects in Your Currently Opened Database
Total Access Detective lets you compare any two objects in your currently opened database right from the Microsoft Access Add-ins menu:


Run Total Access Detective from the Microsoft Access Add-ins Menu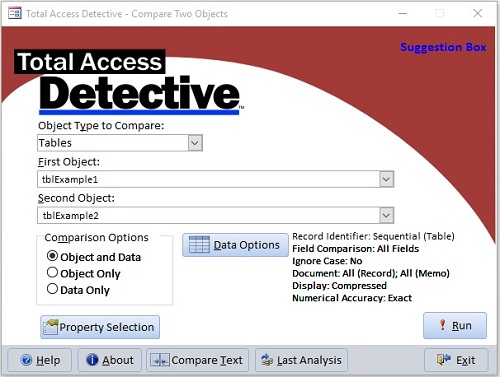 Specify the pair of objects in your Microsoft Access database to compare
Comparing Two Databases
When you want to compare two databases, open our database comparison program and point to your two databases.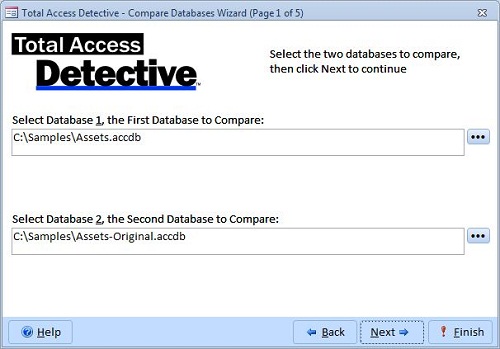 A wizard takes you through the process of:
Selecting the identically named objects for detailed analysis
Setting comparison options including how data and modules are compared
Specifying where to save the results
Total Access Detective then examines all the objects you selected and presents the results.
---
Microsoft Access Database and Object Comparison Results
Results are displayed on screens that you can view, sort, filter and search. Reports are available and you can even export the results to a table in your database.
For more details on what Total Access Detective offers, visit these topics:
---
When Total Access Detective Is Needed
When you need to know exactly what changed in Access, Total Access Detective delivers! For example,
Documenting differences between an older version and the current version of your database. Great for listing all the work you did for your client or boss!
Modifications made by your users to a deployed database. Great for understanding new and modified queries and reports. Important if your users claim they didn't change anything.
Data changes made to your version or a client's version of a database. Great for detecting new or modified data, changes to lookup tables, etc.
You worked on the database at home, came back to the office and forgot to update the office version before making new modifications. It's awfully nice to be able to reconcile and save all your effort. Missing one item could cause a bug that haunts you later!
---
Microsoft Access Versions and Updates
Total Access Detective is available from Microsoft Access 2016 to Access 97. If you're an existing customer, here are the enhancements in our latest releases:
See the product guide for a complete list of features.
Due to the differences between Access versions, there is a separate version of Total Access Detective for each version of Microsoft Access. It can compare all the database formats that its Access version supports. For instance, if you are using Microsoft Access 2016, Total Access Detective 2016 will run in Access 2016 and compare Access ACCDB (2007-2016) and MDB (2000-2016) database formats. Simply choose the Total Access Detective version for the Access version you are running.
Since Microsoft Access 2013 discontinued support for Access Data Projects (ADPs), if you need to compare ADPs, you must use a 2010 or earlier version.
---
Save Time and Headaches: Guaranteed!
Total Access Detective is invaluable when you need to know the exact difference between your Access objects and databases. Discover why so many Microsoft Access professionals count on Total Access Detective to be more productive. We guarantee Total Access Detective will pay for itself and delight you with its flexibility and ease of use. If you are not completely satisfied with Total Access Detective, return it within 30 days for a prompt and courteous refund.