New Features of Total Access Analyzer for Microsoft Access 2016, Version 16.0
---
Total Access Analyzer 2016, Version 16.0 is not the latest version.
Version 16.1 was released in November 2018 with many new features.
Existing 16.0 customers can upgrade for free. Visit Version 16.1 for details.
---
The most powerful Microsoft Access database documentation and analysis program is now available for Microsoft Access 2016.
Total Access Analyzer helps you know:
Exactly what's in your database
How objects are related to each other
How the VBA code calls each other
A variety of other tips and suggestions to improve and fix your databases
Total Access Analyzer supports all the features of MS Access 2016 with additional enhancements from the 2013 version to extend its functionality and improve its use based on our experiences and customer feedback.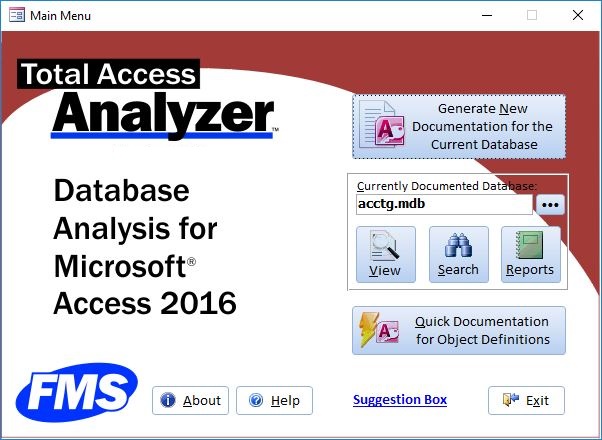 Main Form for Total Access Analyzer 2016
Enhancements
We've made many enhancements since the previous version for Microsoft Access 2013:
---
Microsoft Access 2016 Support
Supports Microsoft Access 2016, 32-bit and 64-bit versions
Total Access Analyzer 2016 includes a 32 bit and a 64-bit version of its add-in to support both versions of Microsoft Access 2016. The setup program automatically detects the Access 2016 version you've installed and installs the appropriate one. It supports any operating system (32 and 64 bit) that Access 2016 supports.
Document All Database Types Supported by Microsoft Access 2016
Total Access Analyzer supports all the database types Microsoft Access 2016 uses including:
ACCDB database format (from Access 2007 and 2016)
Jet Engine/MDB formats (from Access 2000, 2002, 2003, 2007, 2010, 2013, 2016)
This means you can use Total Access Analyzer 2016 with Microsoft Access 2016 to document and analyze databases created by older versions of MS Access.
Note that Access 2016 no longer supports Access Data Projects (ADP) linked to SQL Server, so Total Access Analyzer 2016 cannot support them either.
---
New Suggestion: Incorrect Link to Subforms
The LinkMasterFields of a subform should be to a control on the master form and not directly to a field in the formís recordsource. This lets the subform refresh when the user edits the controlís value rather than waiting for the record to be saved. Total Access Analyzer detects this mistakes and offers a new suggestion to when itís discovered.
See our paper Microsoft Access Subforms Should Reference the Control Rather than Field for Master Link Fields for details.
---
New Suggestion: Relationship Field Cross-Reference and Field Type Comparison
Total Access Analyzer generates field cross-reference for the relationship joins and makes sure they are defined with the same data type. If not, a suggestion is offered to review the inconsistency.
---
Enhanced Cross-Reference of Aliased Tables in Queries
Total Access Analyzer 2016 performs more advanced SQL parsing to capture table names aliased in SQL Joins. Previously, only tables aliased in the FROM clause were resolved.
---
Pass-Through Queries are Not Cross-Referenced
Pass-through queries are processed by the back-end linked server that they are passed to and not Microsoft Access. Since Access and Total Access Analyzer cannot "see" the objects and functions there, table and field cross-reference errors were being identified. To avoid such noise, Total Access Analyzer no longer cross-references pass-through queries. It can still document its SQL and other properties including columns if the connection string is provided. If the connection string is not provided, it flags the omission as an error.
---
Windows 10 Support
Total Access Analyzer 2016 supports all operating systems supported by the desktop version of Microsoft Access 2016. For Windows 8 and 10, the productís Windows shortcut menu is under "Total Access Analyzer 2016". In earlier versions, itís under "FMS", then "Total Access Analyzer 2016".
---
New Manual and Context Sensitive Help
Updated manual and help file with detailed documentation of how the program works and how to best use it.
---
Pricing and Microsoft Access Versions
Due to the differences within each version of Microsoft Access, there is a separate version of Total Access Analyzer for each version of Access.
---
Additional Resources