FMS offers 12 products specifically designed for Microsoft Access.
These products are particularly important for Microsoft Access developers and sure to increase the quality of your development: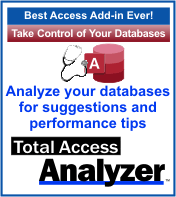 Automated Database Analysis for Best Practices
For automated analysis of your databases, check out our Total Access Analyzer program which is designed to examine every object in your database in detail, provide documentation to help you understand what's in it, how the objects interact, and offer suggestions for applying Microsoft Access Best Practices. It finds hundreds of types of errors, suggestions, and performance tips specific to your database objects.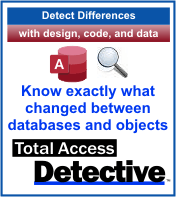 Microsoft Access Database and Object Comparison Add-in
During development if you have multiple copies, multiple developers, or other users making changes, differences occur and need to be tracked down. Total Access Detective compares any two MS Access databases or two objects for differences. Find exactly what changed with properties, fields, controls, lines of macro and module code, and even data between tables or queries.
---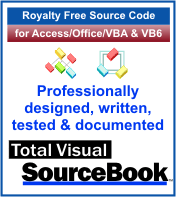 Microsoft Access Source Code Library
Why write all the code yourself? Get our Total Visual SourceBook code library with 100,000+ royalty-free lines of code you can insert into your Access, Office/VBA and VB6 projects. Written exclusively for this professional code library, there's code you won't find anywhere else.
More info on Microsoft Access module code.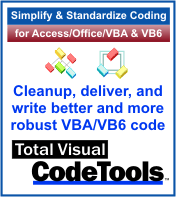 Simplify Writing, Taking Over, and Delivering VBA Module Code
If you want to write better VBA code and do it in less time, learn about our Total Visual CodeTools program which works with Access, Office, and VB6. Total Visual CodeTools includes code builders, tools to standardize existing code (indentations, variable names, adds error handling, etc.), and tools for you to deliver more robust solutions. Learn more about our Microsoft Access coding tools.
---
These products are also part of our suites: