Enter a Zip Code and Auto-Fill the City and State Names!
Improve data entry speed and eliminate typos! Your users will think it's magic and will appreciate the convenience!
With Total ZipCode Database, you can create forms so your users can simply type in the zip code and have the corresponding city and state fields automatically filled in. Avoid entering invalid zip codes, typing city names, checking their spelling, or having zip codes and cities that don't match. You can even have drop down lists for zip codes with multiple city names.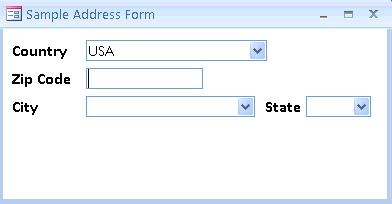 Whether you're developing applications in Microsoft Access, Visual Studio .NET, SQL Server, Visual Basic 6 or any other platform, the Total ZipCode Database gives you the data you need to easily add this time saving feature and improve data entry accuracy. If you're entering addresses, Total ZipCode Database is for you!
FMS in conjunction with the United States Postal Service (USPS) is pleased to offer a monthly subscription to the official USPS zip code database, plus each zip code's geographical location (latitude and longitude):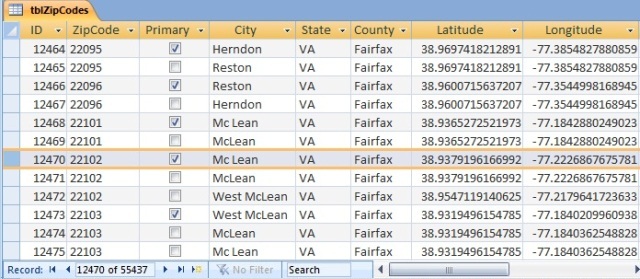 We provide you with the official USPS zip code database with the list of every valid zip code and their acceptable city and state names across the entire USA. That's over 50,000 records!
There are over 42,000 unique zip codes each with a "primary" city and state name, and some with more than one city name. Our database gives you every acceptable city name, plus the county name and number. Easily let your users choose the one they need without spelling a city name or state abbreviation EVER again!
There is also a list of zip codes with city names the USPS considers "Not Acceptable", and the recommended city name. Easily use this data to clean up your addresses with the correct city name.
To see it in action, download the Free Demo!
File Formats
Easily take our data and integrate it into your applications. The data is provided in three easy to use formats:
Table in a Microsoft Access 2000-2019/Office 365 MDB database (works with Microsoft Access 2000, 2002, 2003, 2007, 2010, 2013, 2016, 2019 and Office 365)
Table in a Microsoft Access 97 MDB database
ASCII delimited file
Please let us know if you need other formats.
Microsoft Access Databases
The Microsoft Access zip code database also includes additional resources beyond zip codes:
A table with a list of state abbreviations for US, Canada, Mexico, and Australia
A table with a list of all countries
A way to create a zip code table of just the official city names for each zip code
A sample form with source code showing how to automatically fill the city and state when a user enters a zip code
A table with unacceptable city names for certain zip codes
ASCII Files
Contains fields for Zip Code, Primary Status, City Name, State, County Number, County Name, Latitude, Longitude
Additional file contains Zip Codes, States and Primary City only.
Subscription
The USPS does not sell their zip code data. Anyone claiming to "sell" the database does not have a legitimate license from the USPS. The USPS also doesn't want people with outdated information, so the data is only available on a subscription basis. Because zip codes are added and modified regularly, the USPS requires that you update your zip code database on a regular basis (at least once a year). To facilitate this, we provide the zip code database on a subscription basis that entitles you to the current copy plus 11 monthly copies.
Once you sign up, we'll contact you with the URL, user name, and password for downloading the data. On a monthly basis, when the new data is available, you'll receive an email notifying you that you can download it.
Getting and maintaining an accurate list of US zip codes and associated city and state names couldn't be easier!
Licensing
FMS has licensed the list of USPS zip codes for you. Your use of the zip code database is subject to their restrictions:
The underlying zip code data is property of the US Postal Service. You may not claim ownership of it, nor do you have the rights to re-distribute it.
Licensing is on a per copy basis. If the application with the USPS data only uses one copy of the data, only 1 license is required regardless of the number of users that run the application in that location. However, if the data is copied and distributed (even if it's on the same machine or LAN), then a license must be purchased for each copy of the database.
Licensing is valid during the period of your subscription.
Complete licensing information is available here.
Pricing
Total ZipCode Database Products
This product is only distributed electronically. After ordering, you are emailed information for your download.
You will then receive 11 monthly emails notifying you when a new database is ready.
Single
$99
Buy Now
5-Seat
$299
Buy Now
Single
$89
Buy Now
5-Seat
$269
Buy Now
A license number is provided for each license purchased and is valid as long as the subscription remains current.
Call for quantities over 25.
* Pricing and specifications are subject to change without notice. Non-exclusive licensee of the United States Postal Service. USPS logo is a trademark of the United States Postal Service. Product advertising is neither approved nor endorsed by the USPS.