The challenge with running a Windows Service is that a service has no user interface. If an error occurs, the program cannot prompt you with the problem and it may just shut down or hang. There are a few ways to diagnose such problems.
Make Sure Email Notification is Activated
Total Visual Agent has an email notification system to send alerts to you in the event something goes wrong. It uses standard SMTP email settings that are set from the Total Visual Agent Manager under the Tools, Options menu, Error Alert Mail Settings tab: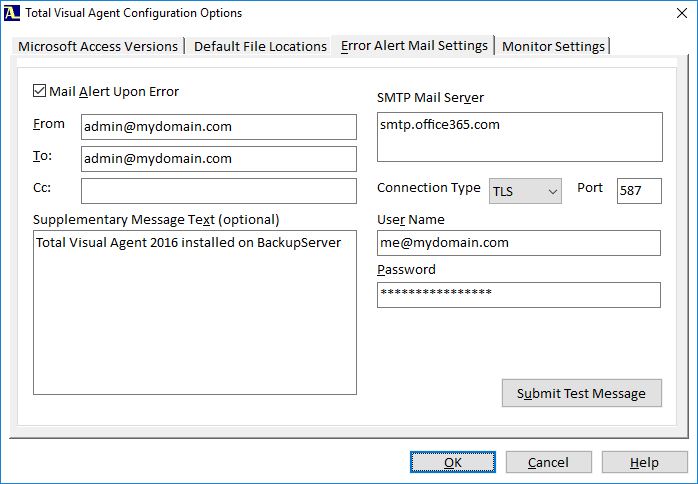 Email Notification Settings to Activate Email Alerts
With email notification, you will receive emails when unexpected errors occur. Make sure to test your email settings to verify this is working.
Test Your Actions
From the Total Visual Agent Manager where you create your tasks, make sure you test them individually to ensure they work. You should do that before setting them on a schedule to run repeatedly.
Use the Monitor First
Before running it as a Windows service, launch the Monitor to ensure it works.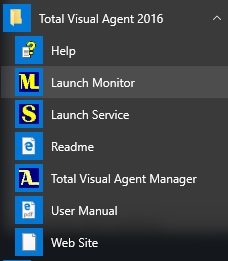 Launch the Total Visual Agent Monitor
Unlike the Service, the Monitor has a user interface that can prompt you if it encounters unexpected errors.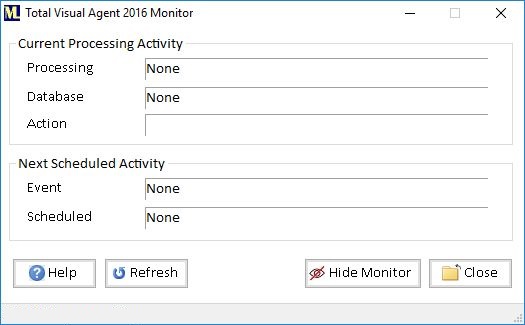 In terms of performing your scheduled tasks, the Monitor behaves identical to the Service so there is no difference in functionality. However, if a problem occurs in the Service, it can just quit or hang without telling you why. The Monitor can help you troubleshoot issues, so run it for a few of your scheduled cycles to ensure there are no issues before using the Service.
Database Not Found Error
If the Monitor runs and the Service fails with errors claiming it can't find databases, make sure your databases (and other folders and files) are referenced by Universal Naming Convention (UNC) format (e.g. \\server\folder\) rather than mapped drive letters.
References to local drive letters should be fine, but mapped network drives may not be initialized for the login used by the Service. UNC paths should always work.