Healthcare.gov is a Technological Disaster
October 1, 2013
FMS President Luke Chung visited the Healthcare.gov web site the first day it launched to get a price quote for his family based on the Affordable Care Act (Obamacare). He quickly discovered the website was poorly designed, poorly developed and seemingly untested.
He wrote a blog Healthcare.gov is a Technological Disaster about his experience which became a rare, non-partisan technical assessment of the website. It garnered social media attention from many news organizations, which led to an article in the New York Times, followed by national news coverage on CBS, CNN and Fox News! He was even asked to educate the House Energy and Commerce Committee on how the project could have gone so sideways.
Here are some of the press videos:
---
October 9th: Morning CBS News Broadcast
I was included in the national morning broadcast of CBS News. Read the text or watch the video in Obamacare website looks "like nobody tested it," programmer says
"It wasn't designed well, it wasn't implemented well, and it looks like nobody tested it," said Luke Chung, an online database programmer.
Chung supports the new health care law but said it was not the demand that is crashing the site. He thinks the entire website needs a complete overhaul.
"It's not even close. It's not even ready for beta testing for my book. I would be ashamed and embarrassed if my organization delivered something like that," he said.
---
CNN Situation Room with Wolf Blitzer
Luke was featured in an article on CNN entitled Obamacare glitches known ahead of time? Brian Todd came by the office to learn more about the challenges Luke encountered and the web site actually crashed while he was showing it.
---
Fox News with Peter Doocy on October 11
ObamaCare website neither fast or easy? Peter stepped through the site and struggled to even get a user name. Then Luke made a few comments.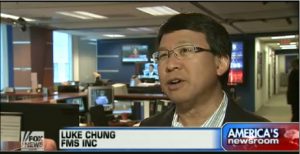 "It's written as if it were created by people who had never created a database web application before…This can be fixed in a very short period of time, and it wouldn't necessarily be that expensive"
---
KABC Radio Los Angeles (AM 790): McIntyre In The Morning
Luke Chung comes on to talk about the root cause of Obamacare's website hick-ups… (7 minutes)
---
Ross Fire Show on KIRO Radio Seattle
Here's my interview with Dave Ross of Ross Fire on KIRO Radio, a CBS Radio station in Seattle:

A computer expert's take on the ineptitude of Obamacare online
Database expert Luke Chung has suddenly become an expert on the failings of the Obamacare computer system, all because it kept crashing as he tried to get a quote. Dave Ross and Luke go in depth on what Luke found after he dug into it (stunning ineptitude) and how he could fix it easily for a fraction of the cost. Whether you're a geek or not, you'll enjoy this fascinating conversation.
This is Luke's most in depth interview on the HealthCare.gov website. It includes his experience meeting with the House Energy and Commerce Committee staffers on Thursday, ways to improve the system, and how the Affordable Care Act can help FMS and other small businesses.