Total Visual CodeTools lets you specify naming conventions for variables based on their data type and scope. A powerful option during Code Cleanup is the ability to rename all the variables in your project to your naming convention.
For instance, you may want all your integers to start with "int", strings with "str", etc. The use of a variable naming convention is considered a Best Practice within the VB6/VBA developer community and helps to quickly read a variable name and have an idea of what data it contains. Three tabs are available.
Cleanup Options Tab
The first tab is for general cleanup settings to determine what variables are updated with your naming convention. You can include or exclude the members of user defined types, variables/constants in ALL CAPS, Types and Enums, and variables shorter than a certain length (for instance one character variables such as X which are commonly used as counters).
Data Types
You can specify the variable naming convention tag you'd like to use for every data type. We've included a default set of data types and you can add your own: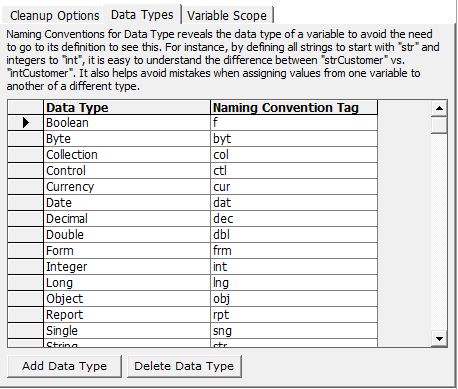 Variable Scope
In addition to data type, you can also rename variables to reflect their scope. For instance, global variables can start with a "g", module level with a "m", procedure parameters with a "p", etc.