Microsoft Access Update Query Examples, SQL Syntax, and Errors
Provided by Luke Chung, President of FMS Inc.
(Portions from the Access help file)
Contents
---
Total Access Analyzer 2019
See What's Really Going on Inside Your Access Databases!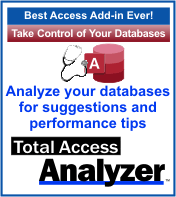 ---
Total Access Emailer 2016
Send Personalized Emails from Microsoft Access!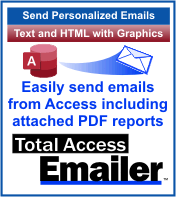 ---

Updated Microsoft Access to SQL Server Upsizing Center with whitepapers, resources, and SQL Server Express Downloads
Copyright © FMS Inc. All rights reserved. This information may not be republished, reprinted or retransmitted in any form without the express written permission of FMS Inc. The information provided in this document is provided "as is" without warranty of any kind.