Decompile Your Microsoft Access Database to Improve Performance, Fix Corruption, and Avoid Strange VBA Errors
Provided by: Luke Chung, FMS President
VBA Code Corruption and Performance Drag
Periodically, Microsoft Access databases with VBA module code perform oddly. Code that previously worked suddenly fail or behaves incorrectly. Here are some examples of errors that come up:
The database cannot be opened because the VBA project contained in it cannot be read.

Error accessing file. Network connection may have been lost.
This error is particularly confusing if your file is local and not on the network:

Compile Error: Out of Memory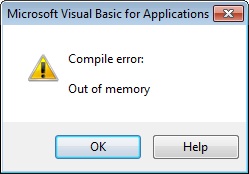 It's all very confusing, especially when Compact and Repair does not help.
The initial assumption is that the database is corrupt, which is partially true. People then resort to creating a new database and importing their objects into it which is time consuming and a pain. It solves the problem, but there's a better alternative to check first.
The Microsoft Access /decompile command
Fortunately, Microsoft Access offers a way to fix the VBA compiled state with the /decompile command line option. The Compact and Repair feature only applies to the tables and does not impact VBA code. The decompile command does.
When Access is started with this and you open your database, it discards all the old VBA compilations, and leaves just your VBA source code. You'll need to compile again to get the compiled state. After compacting, your database may be significantly smaller.
To decompile your database, follow these steps:
From Windows Explorer, locate where your Access program is installed by searching for MSACCESS.EXE. If you have multiple versions of Access installed on your machine, you need to identify the path to the Access version you want.
From the Windows, Start, Run command line, type: msaccess.exe /decompile where msaccess.exe includes the complete path. For example, the 32-bit version of Access 2016 is commonly installed here:


C:\Program Files (x86)\Microsoft Office\root\Office16\MSACCESS.EXE /decompile

From Access open the database you want to decompile (with trusted authority for Access 2003 or later)
Open up any module. Compile it via Debug, Compile.., then File, Save.
Go back to the database and Compact it. The location of the Compact command varies by Access version.
The database size should be reduced and the strange errors related to the VBA code should be gone.
The example above is for Microsoft Access 2016, but it also applies to Microsoft Access 2013, 2010, 2007. 2003, 2002, 2000, 97 and earlier.
Create a Shortcut
To simplify doing this in the future (and you'll likely need this again), create a shortcut on your Windows desktop pointing to where your copy of Access is located:
C:\Program Files (x86)\Microsoft Office\root\Office16\MSACCESS.EXE /decompile
Then, whenever your database is acting oddly, you can easily launch the decompile version of Access to open your database and decompile it. In a few minutes, you're back up and running with a smaller database.
Good luck!
---
Additional Resources and Technical Papers
Microsoft Access Database Administrator Products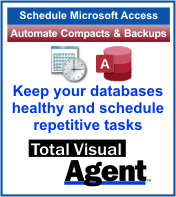 Total Visual Agent manages an unlimited number of databases across your network and schedule database chores in the middle of the night. Perform compact, backups, data extracts, running macros, command lines, and other tasks. Schedule events hourly, daily, weekly, monthly or just one time. Complete audit trail with email notification if anything goes wrong. Free Demo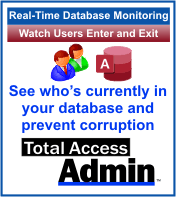 Total Access Admin lets you monitor Access databases in real-time to see who's currently in it and when they leave. It flags users who disconnect in a suspect manner which may indicate a source of database corruption. It can also perform tasks after everyone has exited such as compact. Free Demo