New Features Added to Total Visual Agent 2016
---
This is no longer the latest version of Total Visual Agent.
Existing Total Visual Agent customers can upgrade to the latest version for a nominal fee.
For more information on the new features, visit Total Visual Agent 2021.
---

The world's most popular maintenance scheduling tool for Microsoft Access/Office VBA and Visual Basic 6 (VB6) is now available for Microsoft Access 2016 (and earlier). This is the ninth major release of Total Visual Agent and introduces many enhancements to automate maintenance chores easier than ever.
This latest version of Total Visual Agent builds on our vast expertise, and offers the best database management solution to date. These enhancements were made in previous versions:
Enhancements
Total Visual Agent 2016 includes the following new features and enhancements:
---

Total Visual Agent 2016 supports databases created in Microsoft Access 2016 and earlier versions of Access. This includes ACCDB and MDB Jet database formats, plus Access Data Projects (ADPs) with Access 2010 or earlier. It includes the ability to launch Access macros with Access 2016.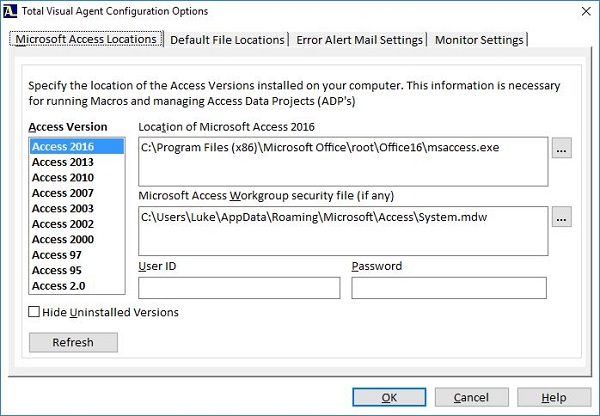 If a compact task fails due to the database locked by another user, the email notification now lists the machine(s) that are locking the database.
Total Visual Agent no longer requires Microsoft Access to be installed on your PC to perform tasks such as database compact, backups, database statistics, table data extracts, etc. Previously, Access 2007 or the 32-bit version of Access 2010 or later was required on your PC.
The new version makes it easy to run Total Visual Agent on a server that does not have Office/Access installed and avoids conflicts if you have the 64-bit version of Access installed. However, if you want to run an Access database macro or manage ADPs, you still need to install the retail or runtime version of Access to run it.
Previously, the settings database contained the event and task specifications, plus the activity log and database snapshot statistics. The latter caused the database to grow over time.
In this version, the settings database (TVAGENT16.MDB) uses a separate database (TVAGENT-Data.MDB) for the three activity log and statistics tables. The settings database links to those tables and its reports still use them without any changes.
A new Minutes column shows the number of minutes each activity took.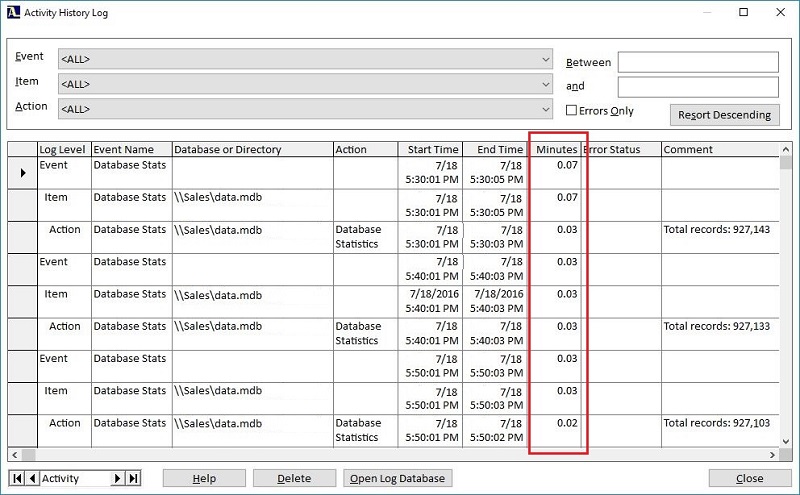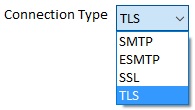 Total Visual Agent can send an email when a problem arises. In addition to SMTP and SSL, it now supports ESMTP and Transport Layer Security (TLS) connection protocols.
TLS is necessary to connect with smtp.office365.com from Microsoft Office365's Exchange Server.
Events can be defined with start and end times such as 9 AM to 5 PM. Previously, if an event was scheduled to run at the end of the time range, Total Visual Agent would start the tasks, then stop when it noticed the time period expired and issue an error/warning message that the tasks couldn't be completed.
Now if the event is scheduled at the end of the time range, it's skipped. If you want the top of the hour event to run, set your time range to end at 5:01 rather than 5:00.
To make it easier to see whether an event is running, the event's form shows "Enabled" or "Disabled". You still change this status from the right click menu on the treeview:

Under Options, the tab for setting monitor options better explains the choices: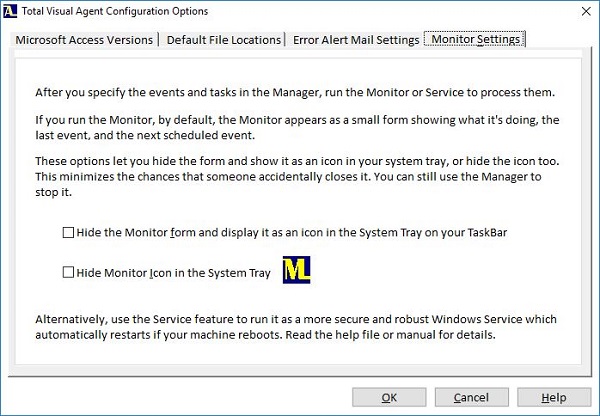 Import schedules created in other versions of Total Visual Agent. Under the File menu, Import Manager Settings lets you add specifications from multiple instances without eliminating your existing settings.
It automatically uses the existing database specifications if the managed database is already defined.
Total Visual Agent can run as a Windows Service which lets it automatically restart if the machine reboots and doesn't require a user to be logged in to keep it running. The service processes are hidden from the user interface. Enhancements make this more robust and better able to handle unexpected situations.
Enhanced Installation for Windows 8 and 10
The Total Visual Agent setup program supports Windows 8 and 10, and installs itself on the modern interface under "T" Total Visual Agent.
This differs from Windows 7 and older O/S where the program installs itself in the Total Visual Agent subfolder in our FMS folder.
Simplified Installation of the .NET Framework
Total Visual Agent uses the .NET Framework 3.51. This is on all PCs since Windows 7, but may be deactivated. The new setup detects this and turns it on without having to install it from scratch.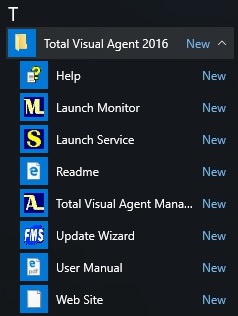 Total Visual Agent 2016 includes a new user manual and online help file to explain the new features.
---
Pricing and Versions
Total Visual Agent Pricing
for Microsoft Access, Office, and Visual Basic 6
Single
$399
Buy Now
Buy Now
5-Seat
$1199
Buy Now
Buy Now
Single
$299
Buy Now
Buy Now
5-Seat
$899
Buy Now
Buy Now
Single
$299
5 Seat
$999
Total Access Ultimate Suite
Total VB Enterprise Suite
A runtime version of Total Visual Agent is not available since it cannot be bundled within an Access or VB6 application (like a control). Total Visual Agent is a system administrative tool and usually runs on a machine separate from the deployed applications. Since it can manage databases across the entire network, its usefulness extends well beyond your application.

Many developers and consultants, who need to bundle scheduled database maintenance with their applications, purchase multi-license copies of Total Visual Agent and resell it to their clients. Not only can you resell Total Visual Agent at full price, you can also charge fees for installation and configuration to manage your applications, all their other Access/Jet databases, and scheduling other tasks. For more information, please contact info@fmsinc.com.
Total Visual Agent is licensed on a per installation basis. Each installation can manage multiple databases across the entire network (assuming the machine has rights to view the other network drives).
Microsoft Office/Access 365 is a subscription that is constantly updated. Total Visual Agent 2021 supports the version of Office/Access 365 when it was released at the end of 2021. We cannot guarantee automatic support for all future releases with our current version. We strive to provide upgrades to support new features as they become available.