The Total Visual Agent Service is a standard Windows Service, and like other services, can be managed through Microsoft Management Console (MMC) Services. MMC includes more advanced management options than the Service Control manager, and can be used if you are familiar with Windows Services.
To open MMC Services, select Control Panel, Administrative Tools, Services from the Windows Start Menu:


Setting the Total Visual Agent Service Properties from the Microsoft Management Console
Total Visual Agent Service Properties
Locate the service named "Total Visual Agent 2016 Service" and select "Properties" from the Action menu, or double click on the service to open the Properties window.
General Tab to Set Startup Type to Automatic
The General tab provides options for starting and stopping the Service: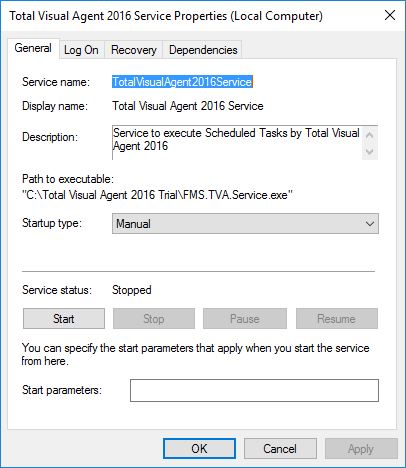 Total Visual Agent Service, General Properties
From this tab, you can specify the startup type for the Service. Change the Startup Type from Manual to Automatic for the service to automatically start when Windows is rebooted. This lets your processes automatically restart after the machine recovers from a power failure. This tab also lets you manually start, stop, pause, and resume the Service.
Log On Tab
The Log On tab provides options for how the Service logs on to the system.
Select "Local System Account" to specify that the Service logs on to the local system account. This is appropriate if Total Visual Agent is only working with files on that machine.
If Total Visual Agent processes protected local files and folders, or network files, you need to specify a specific user account with the appropriate permissions.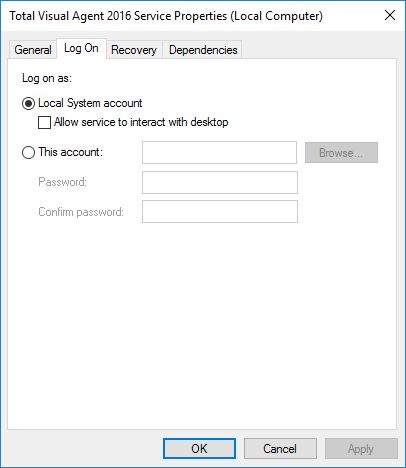 Local Log On Properties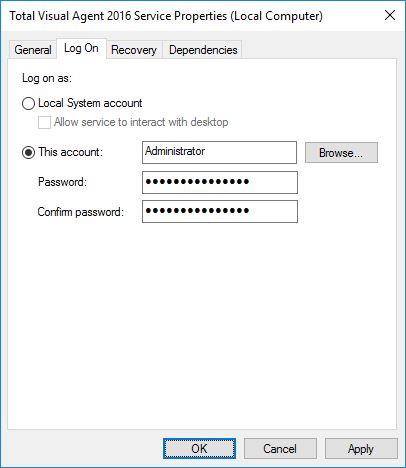 Network Log On Properties
Recovery Tab
The Recovery tab provides options for how the Service behaves if it fails: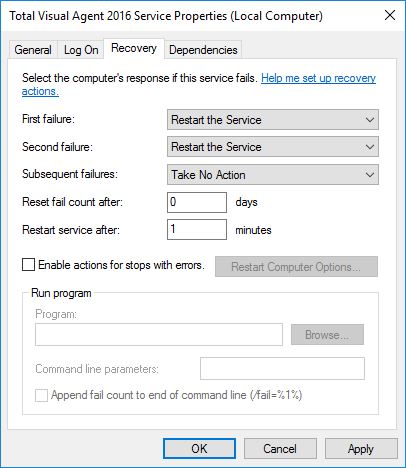 Total Visual Agent Service, Recovery Properties
If the Service fails to start, consider restarting it, or running another program to notify you of the failure.