To insert a Sparkline:
Select the cell where you want to insert the mini chart.
On the Insert tab of the Ribbon, choose the desired Sparkline type in the Sparklines group: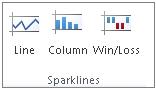 In the Data box, type the range of the cells that contain the data on which to base the Sparkline: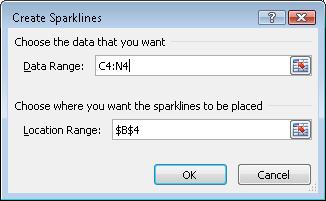 After you insert the Sparkline, a new tab appears on the Ribbon. The Sparkline Tools tab allows you to select from a variety of formatting options, including the chart type, colors and styles, etc.