Microsoft Access Table Differences with Data, Fields and Properties
Total Access Detective performs detailed comparisons between two tables to tell you exactly what's different. Compare two tables in one database or identically named tables in two databases (MDB, ADP, or ACCDB formats).
Total Access Detective makes it easy to find changes to your tables:
Table Properties (description, linked database connections, etc.)
Fields

Field Names in one table but not in the other
Field Type, Size, and other properties for identically named fields

Indexes

Indexes in one table but not in the other
Index Fields and Properties for identically named indexes

Data

Records in one table and not in the other (new or deleted records)
Field differences for modified records
Visit finding the data differences between two tables to learn more about comparing records and the advanced options for comparing tables with different field definitions. After performing the data comparison, you can also choose to combine the data into a new table.
Comparing Microsoft Access Tables
When comparing two tables, you can compare the object (table design structure) and/or data: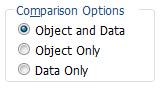 Table Comparison Results
If you choose Object and Data, the results are displayed in a form with three tabs:
Object: field, property, index, and other design differences
Data: summary of new, deleted, and modified records
Modified Fields: for modified records, its different field values
Structural Differences Between Two Tables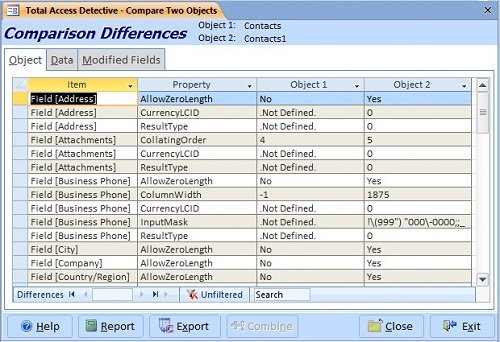 Example of Table Comparison Showing Field and Property Differences
Data Differences Between Two Tables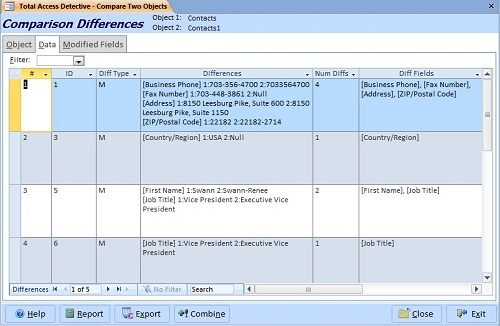 Example of Data Comparison Showing New and Modified Records
Field Differences for Modified Records Between Two Tables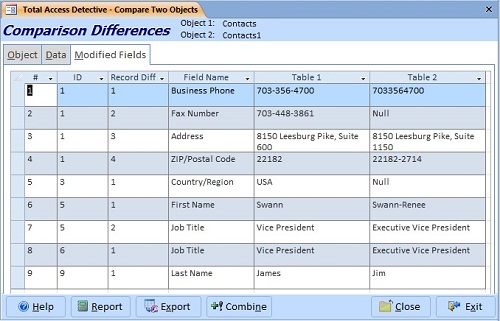 Display of the Modified Field Values in Modified Records
For additional information on comparing data and the many options Total Access Detective offers, visit Compare Records (data) Between Microsoft Access Tables and Queries
Reports for Table Design and Data Differences
Reports are available for:
The list of table property differences
Records that are new, deleted or modified
Field differences for Modified records
Field names that were compared to each other
By default, the field names are identical but if you chose to compare by field order, these may be different.
Reports can be printed, previewed, opened in Report View, or exported to a variety of formats such as PDF, HTML, text, etc.