Compare and Find Differences Between Microsoft Access Macros (including Embedded Macros)
Total Access Detective performs detailed comparisons between two macros to reveal exactly what's different. Compare two macros in one database or identically named macros in two databases (MDB, ADP, or ACCDB formats).
Total Access Detective makes it easy to find changes to your macros:
Macro property differences (description, last updated, etc.)
Macros line difference for the main macro
Sub Macro names that exist in one macro and not in the other
Macros line differences for identically named sub macros
Embedded macros on forms and reports are compared when the form/report is compared. Embedded macros for the same event on identically named controls are compared.
Macro Comparison Results
Blocks of macro line differences are shown. For two database comparisons, all the identically named macros are compared and their differences shown: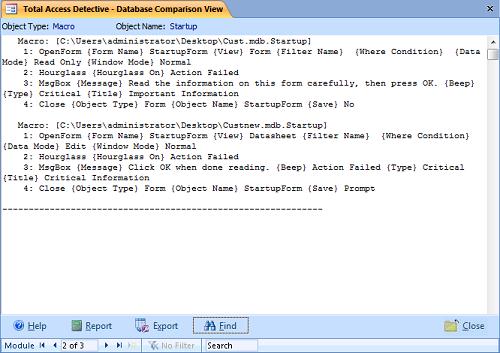 Example of Different Macro Line Commands
Reports for Macro Differences
Reports are available for:
Macro Line Differences
Printouts of All Lines for Each Macro
Macro Property Differences
Reports can be printed, previewed, opened in Report View, or exported to a variety of formats such as PDF, HTML, text, etc.