Replace the Paperclip Icon of Attachment Fields with a Column Name in Microsoft Access Tables in ACCDB Databases
In Access 2007, 2010, 2013 and 2016 databases (ACCDBs), the Attachment field type lets you add multiple files to each record in the table, similar to how you can attach files to emails.
For instance, add an attachment field named "Documents":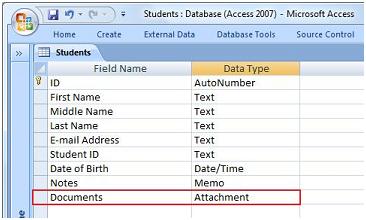 When you view the table in Datasheet view, the attachment field shows a paperclip icon in the column header:

This is often fine in tables with only one attachment field, but what if you have more than one? In this case, you see two columns with the paperclip icon, with no way to visually distinguish between them:

To solve this issue, simply set the field's Caption property: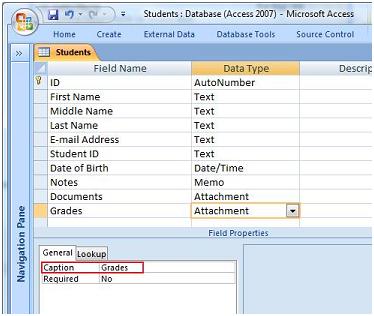 Now, when you view the table in Design view, the Caption shows as the column header instead of the paperclip icon:

---
Additional Resource
Our Total Visual SourceBook royalty-free code library has a module for managing Microsoft Access Attachment Fields in VBA and VB6 (add, edit, delete, export).