Disable Design Changes for Tables Before Deploying Microsoft Access 2007, 2010, 2013, 2016 Databases
Provided by: Aparna Pophale, Quality Assurance Assistant
A feature in Microsoft Access 2007 or later lets people easily modify the structure of their tables without putting it into design mode. Simply add a column while viewing the datasheet. This makes it easy to change a table similar to the way people add columns to an Excel spreadsheet.
However, this is not desirable if you created a database and deploy it to people who shouldn't be making structural changes to your tables.
Let's see how to make this feature enabled. Click on Office button and then Access Options.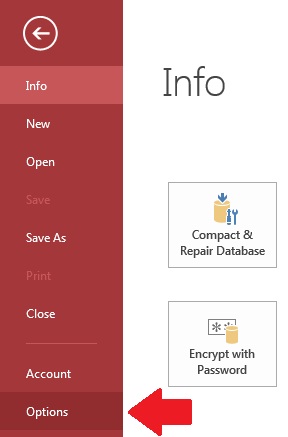 Microsoft Access 2013/2016 Options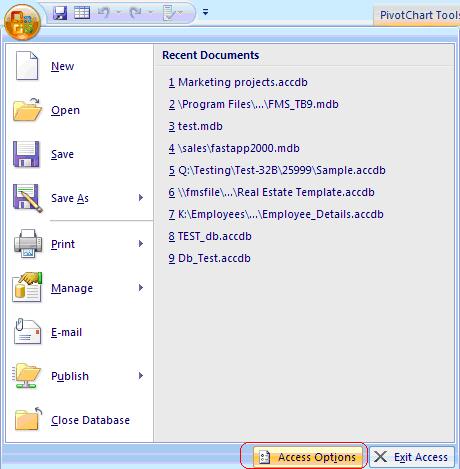 Microsoft Access 2007 Options
It opens Access Options form. Select the "Current Database" category and see the option "Enable design changes for tables in Datasheet view:. By default this is checked: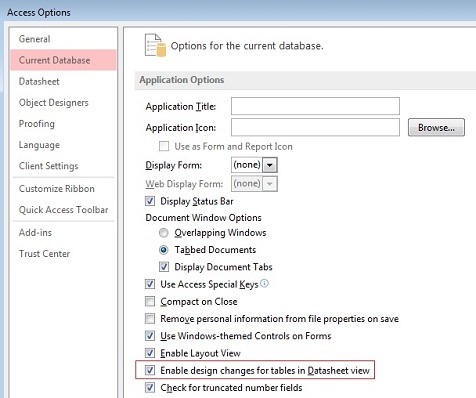 Microsoft Access 2013/2016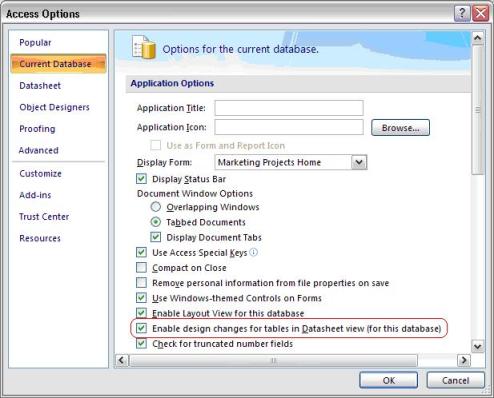 Microsoft Access 2007
When this is enabled, there is an Add New Field column on the far right of the datasheet, and there are extra options to update tables. Open a table in datasheet view and right click on any field of the table to see the options to Insert, Delete, and Rename: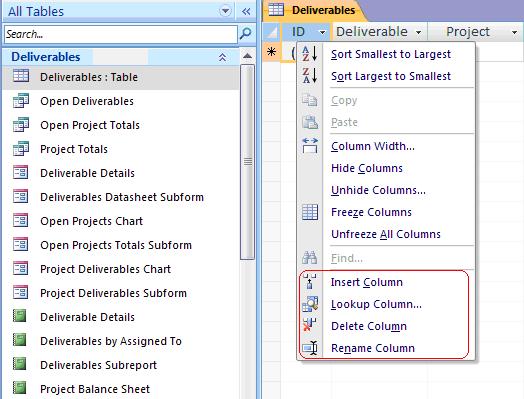 Disabling Design Changes from the Datasheet
This option should be turned off in applications you build for others. Having users accidentally or deliberately create, delete or rename fields can easily cause your application to crash. Changing a table's structure has implications for queries, forms, reports, macros, and modules that depend on those fields.
Simply uncheck this option under Access Options to prevent this from happening. This can also be set programmatically from the database object via:
CurrentDb.Properties("AllowDatasheetSchema") = False
After turning off this option and reopening the database, you'll see the right click menu on tables has more restricted options. The Add New Field column on the far right is also gone.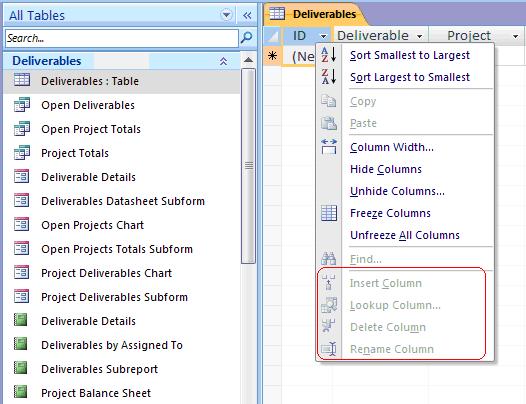 This tip and other ways to ensure you create great Access applications are found in Total Access Analyzer.