Use Gauges to Show Relative Values in Microsoft Access
The Gauge control displays quantitative information in a graphical, circular format that is easy to understand. Select between two different styles (half circle and full circle) and a variety of formatting options.
Sample Gauges with Background Images
By using background pictures, you can create interesting gauges on your MS Access forms: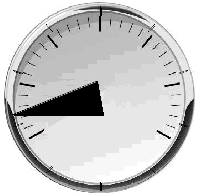 Full Circle Gauge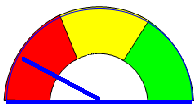 Half Circle Gauge
Using the Gauge Control
Simply place the Gauge control on your Microsoft Access form, size it, and set its properties:
Gauge Style
Two types of styles are available:


Full Circle Gauge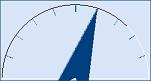 Half Circle Gauge
Appearance
Effect Style: normal, sunken, raised
Needle Style: line, arrow, filled arrow, triangle, modern
Needle Line Width
Display Tick
Tick Frequency
Graphic image behind the gauge (bitmap, GIF, icon, or JPG)
Enable Windows Themes
Colors if themes is not enabled
Values
Current value
Minimum and Maximum values
Starting location of the pointer for the minimum value

Left, top, right, or bottom
To change the position of the needle, set the Value property.
Programmatic Options
No programming is required to use this control; however, all properties can be set via VBA, and there are events for mouse clicks and key presses.