September 2019

For Microsoft Access, SQL Server,
Visual Studio .NET, and VB6 Professionals

---
Greetings!
In July, I watched the Smithsonian's National Air and Space Museum's 50th anniversary celebration of Apollo 11 in Washington, DC. I snapped this beautiful photo of the 363-foot Saturn V rocket projected on the east face of the Washington Monument. It was a video that eventually launched, went to the moon and splash landed.
I will be speaking at two major Access conferences this month. I'll be speaking at the Netherlands Access Developer Day on September 14, 2019. At the end of September, I will be presenting at the Portland Access User Group Conference in Oregon. Hope you can join me at either of these events.
We've also sponsored a Meetup account for the Portland Oregon Access User group. Sign up to receive notifications if you frequent the Portland area.
Meanwhile, I'm honored to be recognized by Microsoft as an MVP for Office/Access for the eighth year, and we've released a major update for Total Access Analyzer.
We've only included a subset of recent news here. For additional information, visit our News Announcements page and receive our latest notifications from our

Facebook page,
Blog, and

Tweets.
All the best,
Luke Chung
President
Contents
Upcoming Microsoft Access Conferences in 2019
---
New Updates for Total Access Analyzer are available for Microsoft Access 2019, 2016, 2013, 2010 and 2007

Total Access Analyzer is the most popular Microsoft Access add-in, that offers comprehensive documentation and analysis of your MS Access databases so you can better understand individual objects, cross-references between objects, procedure and data flow diagrams, VBA module analysis, and much more.

Enhancements

Ribbon Documentation
Data Macro Analysis
SQL Cross-Reference and Validation of Subform References
New Errors and Suggestions
Report, View Explorer and Quick Documentation Enhancements
About Box has Check for Updates
Revised User Manual and Help File
Improved User Interface
and more...

For more information, visit:

Download the Free Trial to experience it for yourself.

Microsoft Most Valuable Professional Award

Microsoft recognized FMS President Luke Chung as a Microsoft MVP for the eighth year in a row for his support in the Microsoft Access community!

The Microsoft Most Valuable Professional (MVP) award is given to individuals who have exhibited exceptional technical expertise and a talent for sharing knowledge within their technical community.
---
Microsoft Access Shortcut Keys

If you've ever used Microsoft Access forms to enter any quantity of data, you know how tedious and time consuming it can be.

Senior Systems Analyst, Molly Pell and President of FMS, Inc., Luke Chung have made a web page that shows the Shortcut Keys for Data Entry and Navigation! Once you get into the practice of using these shortcuts, you'll wonder how you ever worked productively without them.

Visit our page Microsoft Access Shortcut Keys for Data Entry and Navigation for more information.

Inheriting Legacy Microsoft Access Databases

FMS President Luke Chung has updated his article on addressing some of the issues a developer might find when inheriting/taking over someone's software.

Taking over someone else's work can be challenging and FMS has created Microsoft Access products to address the issues that can be encountered.

For more information, visit Taking Over (Inheriting) Legacy Microsoft Access Database Applications.
---
FMS is the Sponsoring Portland Oregon Access User Group on Meetup

FMS is sponsoring the Portland Microsoft Access User Group on Meetup! This group is dedicated to Microsoft Access and meet every month to share their experiences and answer questions about Access.

Meetup is an online community that you can join for free and receive notifications from the group. If you are close to Portland, Oregon, we invite you to join them!

For more information, visit Portland Access User Group.

Microsoft Access Team create a SQL Server Migration Webpage

The Microsoft Access team created a webpage consolidating all their MS Access to SQL Server Migration resources.

To find all the SQL Server resources in one convenient location, visit SQL Server migration.
---
Upcoming Microsoft Access Conferences in 2019
Netherlands Access Developer Day 2019
September 14, 2019
Amsterdam, Netherlands
FMS is a proud sponsor of the 2019 Netherlands Access Developer Day. This event is a great opportunity to get real world tips about how to get the most out of Access and VBA by international Access Experts.
FMS President Luke Chung is a speaker at the 2019 Netherlands Access Developer Day. He is giving a presentation on Microsoft Access Database Evolution from the Desktop to the Cloud.
To register, visit Netherlands Access Developer Day 2019.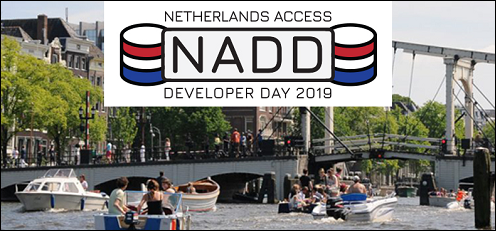 ---
Microsoft Access 2019 Conference near Portland, Oregon
September 28 - 30, 2019, Silver Falls State Park, Oregon
The Portland Access User Group will hold their annual event at the conference center in the beautiful Silver Falls State Park a couple hours south of Portland, Oregon.
FMS President Luke Chung will be speaking at this year's conference on how to "Use Remote App to Host Access Desktop Applications in the Cloud".
For more information visit the PAUG conference web site.
---
Visit our Upcoming Events page for other activities.
---
Your Opinion Matters
Our newsletters are designed for you. To help us provide better service, please send us your suggestions and comments about "The Buzz", as well as our products and services.
See something useful you'd like to see more of it? Want more Microsoft updates?
Please Contact Us with suggestions, comments, or requests.
Past Issues of the BUZZ
Have you missed a past issue of our Buzz email newsletter?
You'll find recent issues conveniently archived for easy retrieval. Get all the tips, news, product updates, and more! (Past Issues)