If you embed graphics on your forms or reports, Access 2007 can store them much more efficiently. MS Access 2007 can convert graphics into much smaller PNG formats to significantly reduce the size of your databases. This does not affect graphics already on your forms and reports but helps if you add new graphics or replace existing ones. To activate this feature, change an Access setting. From the Access Office button, choose Access Options, Current Database. At the bottom of the Application Options section, set the Picture Property Storage Format to: Preserve source image format (smaller file size)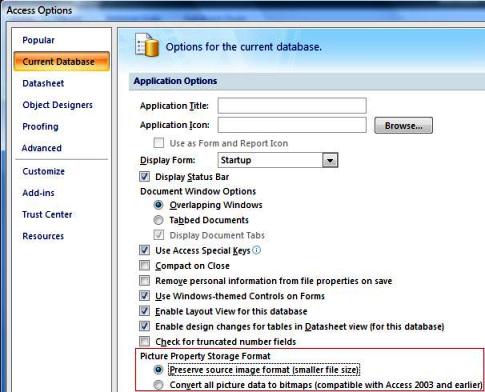 Caution: Do not do this if you need to support users with older versions of Access since the graphics will not appear.
This change also impacts the transparency of picture images imported for command buttons. If your command buttons use themes or background colors, having transparent pictures is helpful. By default, white in your imported pictures are transparent if you use the option to "Convert all picture data to bitmaps (compatible with Access 2003 and earlier)". They are not transparent (remain white), if you set the option to Preserve source image format.