Microsoft Access Conditional Formatting Documentation
Introduction
Introduced in Microsoft Access 2007, form and report controls (text boxes) may have conditional formatting to highlight and compare values in your data. This makes it easy to use a different foreground or background color and style (bold, italics, underline) for different ranges of values. Each control may have multiple conditional formats.
Data bars were introduced with MS Access 2010 to show a field's relative value to the other records in the data source.
Documentation of Conditional Formats
Total Access Analyzer documents conditional formats with what defines the condition and what's shown for each condition. Conditions may include references to fields, VBA functions, and user defined procedures.
Reports are also available to show the controls which have format conditions set.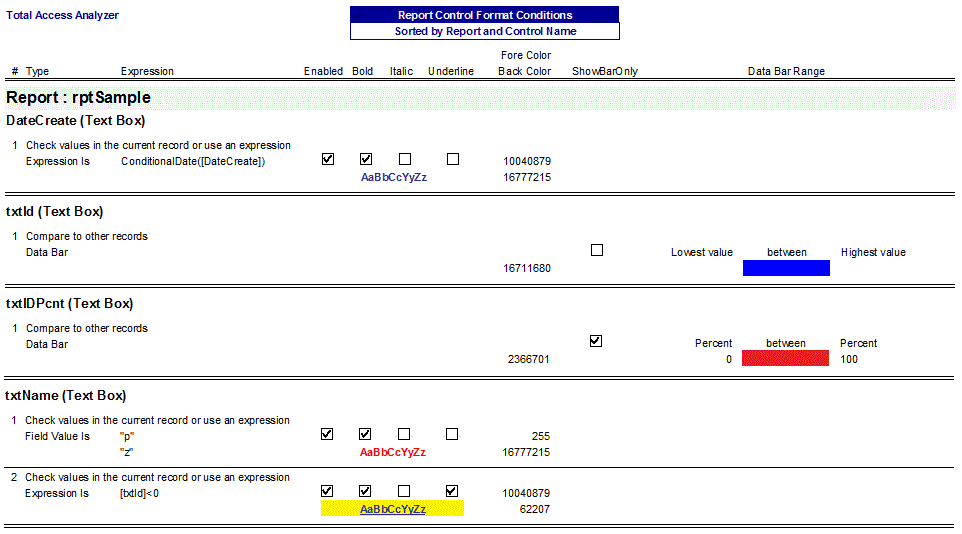 Example of Format Conditions on Controls in a Report
Control Format Condition Analysis
In addition to documenting conditional formatting, Total Access Analyzer also cross-references any field and procedure references. Those references are validated to catch instances that don't exist in case they were renamed or deleted. Function calls are also validated to ensure the correct number of parameters are passed.
---