The Most Powerful Data Analysis Program for Access Just Got Better with Version X.7!
The latest version is X.9 for Access 2007 and 2003, and X.8 for earlier versions.
The information here is maintained so you know about the enhancements from the X.5 to X.7 versions.
Information on Version X.9 and Version X.8
---
When we introduced Total Access Statistics for Access 2007 (version 12), we added many of its new features into earlier versions of Access in versions X.7.
New versions of Total Access Statistics are now available for Access 2003, 2002, and 2000 (versions 11.7, 10.7, and 9.7 respectively). Existing customers with a current priority support agreement receive free upgrades. Customers without a support contract can upgrade for a nominal fee.
Access Data Projects (ADP) Support
Data in Access Data Projects (ADP) can now be analyzed. Perform statistical analysis on your SQL Server data with results stored in SQL Server tables. Data sources can be views, stored procedures, and user defined functions.
Previously, Total Access Statistics only supported Access MDB/Jet databases which could be linked to SQL Server.
Use Parameterized Data Sources
All the statistical analyses now support parameterized queries as the data source. For ADPs, data sources may be stored procedures and user defined functions with parameters.
A new screen lets you specify the value for each parameter:

Data Analysis Enhancements
New Running Totals Calculations
Calculate running averages, sums, counts, etc. for a sorted list of values and placing the values in a field in your table. The running value can be for all records or a moving set of records such as the running average over the last 10 records.
The values are stored directly in your data source in the fields you specify. Up to five fields can be updated at one time.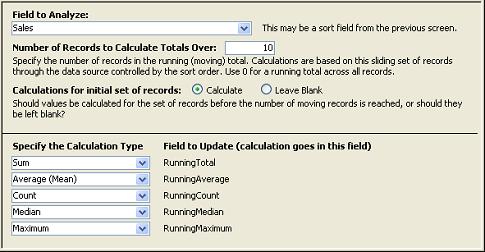 Example of Calculating 5 Different Types of Running Totals on the Sales Field
Here's additional information on calculating Running Totals and Moving Averages in Microsoft Access.
Enhanced Regression Analysis
For Regressions, the estimated Y value can now be added directly into a field in your data source. This is available where thereís only one regression equation calculated at a time such as a multiple regression or a simple or polynomial regression with only one independent (X) field.
Enhanced Percentile Analysis
For Percentiles, a new option is available to assign percentile values to records. If there are multiple percentile values for the same recordís value, you can choose to assign the low or high percentile to that record. Previously, it always assigned the low value.
Here's additional information on Calculating Percentiles in Microsoft Access
Programmatic Interface Enhancements
A new option is available in the Statistics Function to let you specify the table containing parameters for parameterized data sources.
User Interface and Vista Support
A cleaner, more modern user interface with support for Windows XP and Vista look and feel
Enlarged screens show more options and fields to select.
Updated help file in CHM format to support Vista's help file requirements
Field data type names are now localized in non-English versions of Access
---
Comparison to Older Versions
If you are on version X.0, there was a previous release of version X.5 with many new enhancements. All of those features are part of version X.7. Here's a list of the X.0 to X.5 improvements.
For more information, visit our entire History of Total Access Statistics Releases and Updates
---
Download the Trial Version
A functional demo version is available for you to try Total Access Statistics on your data. Download a trial version
If you want to look at how it works without installing the program and review the calculations it generates, get the help file for more details of these and other Total Access Statistics features (included in the trial download).