Windows Shutdown Event Logger
Provided by the FMS Development Team
Administrators and users of Windows 2003 Server are familiar with a new feature that prompts for entry of a reason when the system is restarted or shutdown. The details collected by this prompt are logged and can be viewed under System Events. This feature can be useful for monitoring or diagnosing unexpected shut down events.
This same tool is available on Windows XP workstations by activating a registry key. To implement this feature:
Using REGEDIT, locate: HKEY_LOCAL_MACHINE\SOFTWARE\Microsoft\Windows\CurrentVersion\Reliability
If the registry value ShutDownReasonUI exists, update its value data to 1.
If the registry value ShutDownReasonUI does not exist, create a new DWORD value with that name, and the value data = 1.
Reboot your machine.
During subsequent Shutdowns, Windows will provide the prompt, below: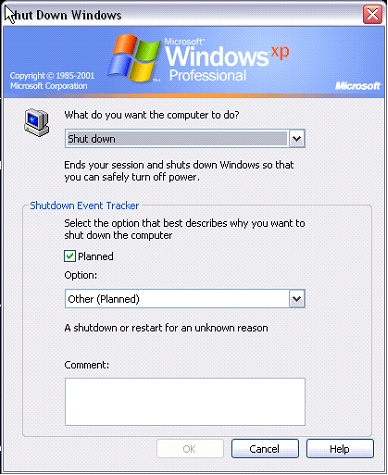 To view these log entries, access the event viewer (Administrative tools | Event Viewer), under the System events category.