Merge Data From Two Microsoft Access Tables into a New Table
One of the most powerful features of Total Access Detective is its ability to combine (merge) data between the two tables you compared. This is extremely useful for reconciling changes made to two copies of the same table.
After Total Access Detective finds different records between your Microsoft Access tables, view the results and press the [Combine] button:
Options for Combining Records from Two Tables
A variety of options let you specify how the table should be created and populated: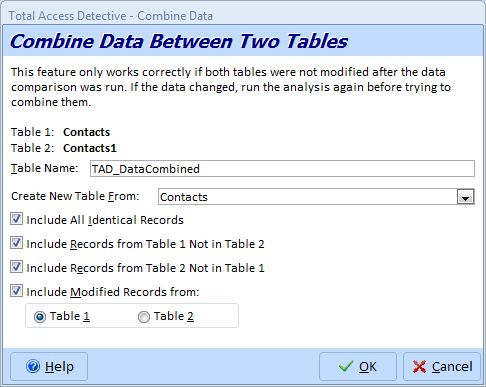 Options for Merging Data from Two Tables
The example above is from comparing two tables in your current database. For two database comparison, the table names are identical and you specify the database where the new table is created. All the other options are identical:
Table Name
The name of the new table. You are prompted to overwrite it if it exists.
Create New Table From
Specify which of the two source tables becomes the design of the new table. The new table uses this source's field names, properties, indexes, etc.
Records to Include
You can optionally decide which records to include in the new table:
All identical records
New records in table 1 (they don't exist in table 2)
New records in table 2 (they don't exist in table 1)
Modified records. If you choose this, specify whether you want the changed record from table 1 or 2.
When you press [OK] the new table is created in your database.
Additional Resource