New Features of Total Access Detective for Microsoft Access 2007, Version 12.0
NOTE: The latest version of Total Access Detective for Microsoft Access 2007 is version 12.9 with these enhancements. Existing customers can upgrade at a discounted price.
The most powerful database, object, code, and text comparison product for Access is now available for Microsoft Office Access 2007. If you need to know exactly what changed between any two Access objects or databases, Total Access Detective is for you.
Microsoft made a big investment to create Access 2007 and added a lot of great new features with significant changes to objects, properties, VBA code, the user interface, embedded macros, and an entirely new database format with new field types.
Total Access Detective supports these new features with additional enhancements to extend its functionality and simplify its use based on our experiences and customer feedback.
Enhancements
We've made many enhancements compared to the Access 2003 version:
---
Supports Microsoft Access 2007 and Vista
Total Access Detective 2007 supports all the database types used by Microsoft Access 2007 including:
The new ACCDB database format
Jet Engine/MDB formats (Access 2000, 2002, 2003, and 2007)
Access Data Projects (ADP) linked to SQL Server
Compares the new Access 2007 features
New object properties
New macro syntax and embedded macros on forms and reports
New VBA module commands
Saved Import/Export specifications
New table field types such as multi-value and attachment fields.

These are also supported during data comparison and combining data from two tables.
Sleek New Office/Access 2007 User Interface
Completely redesigned user interface to support the sleeker Office/Access 2007, Vista/XP color schemes, and look and feel. The user interface takes advantage of the new features such as:
Tabbed views
Resizable forms
Datasheet filtering
Alternating row colors for datasheets
Transparent buttons with graphics

Main Menu for Two Database Comparison
Vista and User Security Support
Total Access Detective is compatible with Vista and the new User Access Control features
Temporary files are placed in your user folder rather than the Total Access Detective folder
Help file is in the new web CHM format rather than old HLP format
---
Improved ADP Comparisons
Many enhancements were made for comparing ADPs objects.
For two ADP comparisons, a new process compares properties that aren't in MDBs
In an ADP, two tables can be now be compared

Includes examination of extended properties
Supports data comparison
Supports combining data into a new table
---
New Documentation Options
New features let you better control the comparisons you generate.
Case Insensitive Module Comparison
For module comparisons, in addition to ignoring indentations, you can now Ignore Case. This lets you avoid flagging differences due to mismatched capital and lower case letters.

This option is also available for the Text Comparison feature.
More information on Comparing Microsoft Access Modules and Text
Separate Table Object and Data Comparisons
When comparing two tables, you can compare either the table design or data, or both. Previously, the design was always compared.
Text Comparison Feature for Two Database Comparison
The text comparison feature which was previously only available under the two object comparison add-in, is now available on the two database comparison side as well.
---
New Data Comparison Features
Compare Tables with Different Fields
Previously, data could only compared if the two tables had identical field definitions. There are now several options to compare tables:
Compare fields by order regardless of field names
Compare identical field names regardless of order
Treat the first field of non-keyed tables as unique
Compare Data Between Queries
Data from two queries can now be compared with an option to specify whether to perform a sequential search or use the first field as a key field.
Ignore Small Differences Between Numbers
Specify whether you want to see all numeric differences, or differences that exceed a certain percentage. This lets you avoid small rounding errors and immaterial differences.
Data Comparison with Field by Field Results
Previously, during data comparison, modified records were only displayed as individual records listing all the modified fields in one record. This is now supplemented with an additional table listing each field difference as a separate record showing the two values.
More information: Comparing Data in Microsoft Access Tables and Queries
---
Improved User Experience
General Enhancements
Screen flashing is eliminated when comparing forms, reports, and modules. This lets you minimize Total Access Detective while itís processing.
---
Two Object Comparison Enhancements
Last Analysis Results are Preserved
Previously, once you closed the results of your comparison, your analysis was gone. Now, a Last Analysis button retrieves the results. This is preserved even if you close the Total Access Detective add-in and return (provided your database remains the same).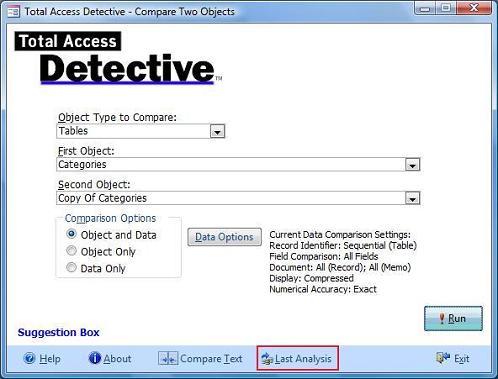 Last Analysis is Available from the Add-in for Comparing Two Objects
Similarly, the last selected object names are preserved when you run Total Access Detective again.
Partial Comparison Results
If you cancel while the objects are being compared, the process stops and the incomplete results displayed rather than discarded.
This can be particularly helpful when comparing data and you decide to stop after it identifies a few differences and donít need all the differences.
Results Shown in Separate Tabs
Object and other differences (data or modules behind forms/reports) are now shown on separate tabs: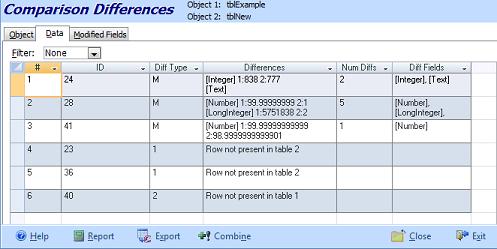 ---
Two Database Comparison Enhancements
Reduced Need to Prepare Databases
Previously, the Total Access Detective Prepare step was necessary before comparing modules between two databases. This is no longer needed when comparing MDB/ACCDB databases. Prepare is still required for ADPs.
Finish Button Eliminates Manual Selections
The Database Comparison wizard now has a Finish button on all its pages. Simply select the two databases and press Finish to compare all the identically names objects. It skips the subsequent Wizard pages, and uses the previously specified values.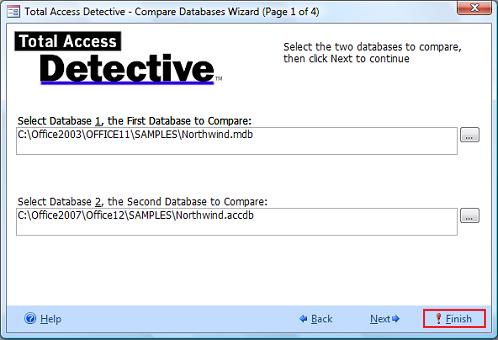 Command Line Automation
To eliminate manually selecting the database and options, a Windows shortcut can pass the names of the two databases to compare. It then compares all the common objects in the two databases using your last settings.
Support for Password Protected Databases
Objects in password protected databases are compared.
---
New Reports and Report Enhancements
Reports for Two Database Comparison
Many new reports were added:
Data Differences Fields Compared: shows the fields compared when an option other than identical structures is used
Table Data Comparison Paired Fields: shows paired field values
Portrait and Landscape reports for object comparison with better support for long object names and property values
When viewing object differences, reports are available for the entire list or just the currently filtered list
When viewing macro or module differences, reports are available for the entire list or just the current macro/module.
List of available reports with their description and default file name when you export it.
Several reports were enhanced including:
Data Differences Summary now shows total in addition to new, and modified number of records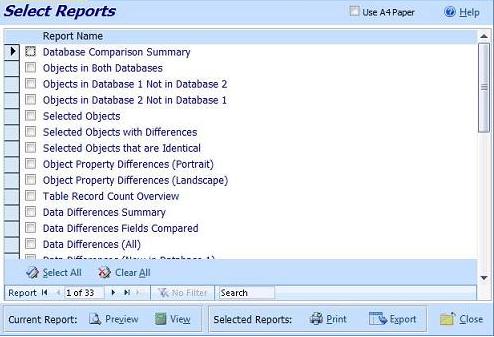 Two Database Comparison: Report Selection Screen
New Reports for Two Object Comparison
Portrait and Landscape reports are available to show object property differences. The reports are improved to better show long object names and property values
Fields Compared for Data Differences: shows the fields compared when an option other than identical structures is used
Field Differences of Modified Records: shows paired field values
Report Enhancements
In addition to Preview, reports can be opened in Report View so you can interactively filter and search the data.
A single report selection screen is used to select the reports, and print, preview, report view, or export them.
Export Reports
Individual or multiple reports can be exported to a folder you specify in formats such as Adobe PDF, HTML, Snapshot, Text, RTF, or XPS.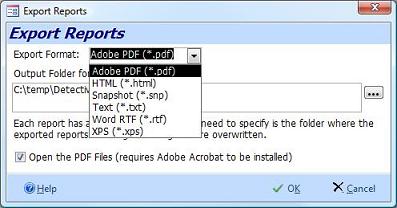 ---
Additional Enhancements
Many other improvements and performance enhancements were implemented to make Total Access Detective better than ever! There's also a new 87 page, professionally printed user manual.
For a quick overview of Total Access Detective 2007, Take the Tour.
---
Pricing and Access Versions
Due to differences with each version of Microsoft Access, Total Access Detective is specific to each version of Access.