New Features in Total Access Admin 2013 (Version 15.0)
This page is a reference for a legacy version of Total Access Admin.
The latest version of Total Access Admin is described here: New Features
Total Access Admin 2013 includes these enhancements from Total Access Admin 2010:
Supports machines with Microsoft Access 2013 (32-bit version) installed, in addition to Access 2010 and 2007.
Supports Windows XP through Windows 8, and any later version that supports Access 2013.
Supports databases in the Access 2007-2013 ACCDB (ACE) database format, in addition to the Jet MDB format.
Increases the maximum number of databases that can be simultaneously monitored from 50 to 100.
Translates obscure computer names to a more understandable user name from a list you maintain.
Enhances the activity log database to include user names.
Allows specifying a time for the program to quit (exit).
Adds new command line parameters to specify the hours and seconds to wait before quitting.
Includes code in the sample database to support 32 and 64-bit Access VBA.
Adds setup options to install for the current user or machine to support User Access Control rights as established by your Windows login.
Includes a new user manual and help file.
New Features
These new features were added to the main form: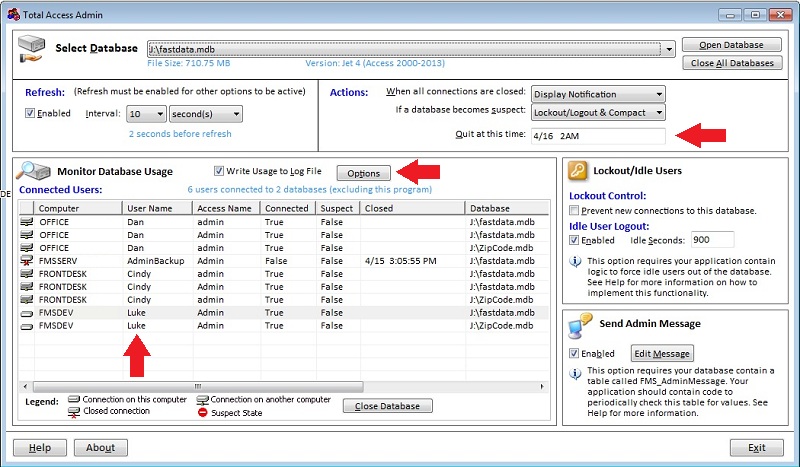 User Name Display
The most popular addition to Total Access Admin 2013 is the display of the user name for each computer name. Microsoft Access/Jet only knows what computer is connected to a database and not the actual user name. You can now create and maintain a list of computers with their user names to better understand who's in your databases. Provided multiple people aren't using the same computer, this works very well.
New Options Form
The new options form lets you manage the two external databases for Total Access Admin.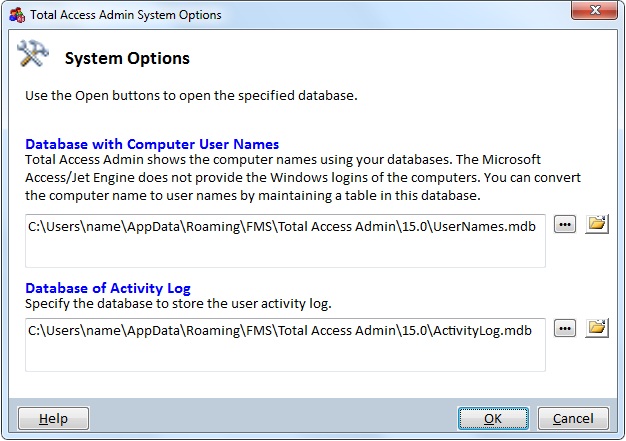 Database with Computer User Names
This is the database containing the translation table of computer names to user names. Open and edit this database to manage your list: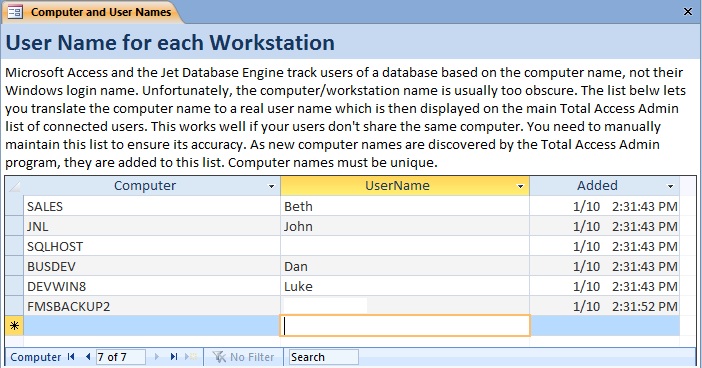 Database of Activity Log
This is the database with the log of all your users entering and exiting your databases. This database stores the new UserName and has two new forms that show all the activities and by session (times when Total Access Admin starts and exits).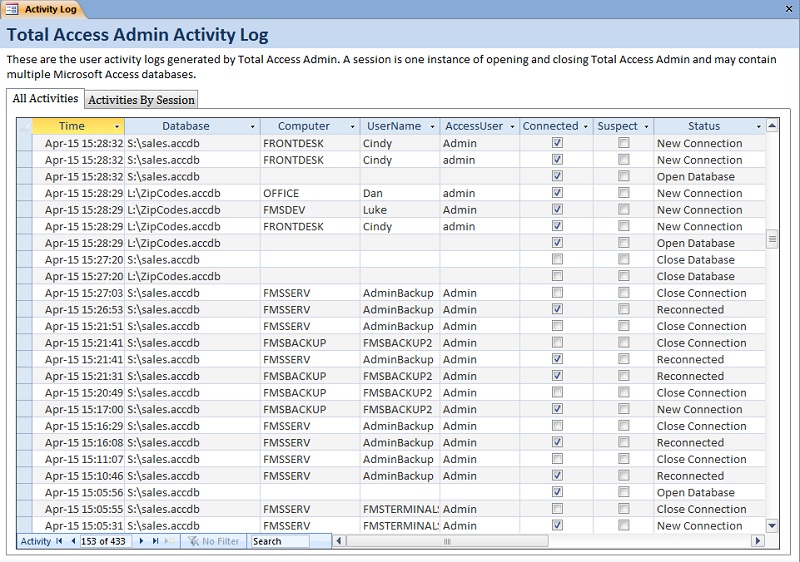 All Activities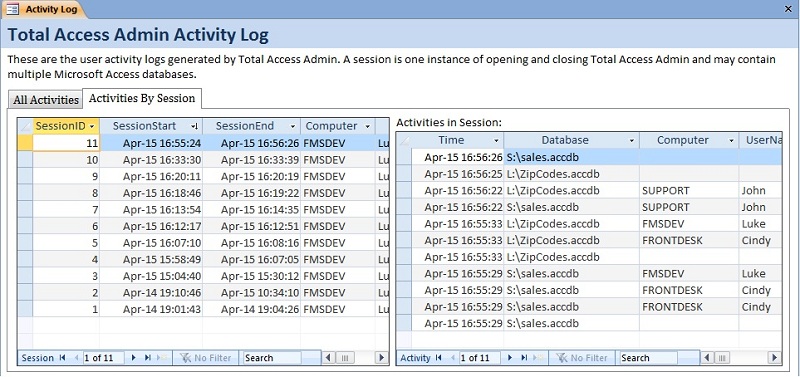 Activities for Each Time Total Access Admin is Launched
Specify a Time to Quit (Exit)
Previously, Total Access Admin could be set to exit for certain actions such as when all users exit the databases.
You can now specify a specific time to exit regardless of other activity in your databases. Just specify any date/time in the future.
New Command Line Parameter for Waiting/Quitting
If you launch Total Access Admin from a command line, you can specify all the UI settings. For the time to quit, new parameters are available to specify the hours and/or seconds before closing. This makes it easy to set the time to quit without having to know the current time (e.g. you can set it to close an hour after starting).
---
Enhancements in Prior Versions
Total Access Admin 2003, Version 11.6
An update for Total Access Admin 2003 was also released with the Access 2013 version. Version 11.6 includes all the enhancements introduced with the 2013 version to monitor Access MDB databases. It runs on systems that do not have Access 2007 or later installed and doesn't support ACCDB database formats. It does not require any version of Access to be installed on the machine. For more information, visit Total Access Admin 2003 (Version 11.6)
For features added to other versions: