Total Access Admin 2010 Preview Version for Microsoft Access 2010

Thank you for your interest in Total Access Admin 2010. This new version supports databases in Access 2010, 2007, 2003, 2002, 2000, and 97 formats.
The preview period has ended and Total Access Admin 2010 is shipping.
Download the trial version or purchase the retail product.
---
This FREE Preview version gives you the opportunity to evaluate the product, provide suggestions and report any errors before the product ships.
Please read this entire document prior to downloading and installing the software.
Contents
---
About Total Access Admin
Total Access Admin lets you monitor your databases to see who's currently in it. It's ideal for understanding who's currently connected and troubleshooting multi-user problems.
Simply start the program, point to your database to:
See a real-time list of users connected to an Access/Jet database and when they disconnect
Track database connections and disconnections in a Log database
Identify dropped or suspect connections
Disconnect idle users
Compact the database after all users have disconnected
Prevent new connections to a database
Perform actions to attempt recovery from a suspect state
Send messages to application users
Launch Total Access Admin from a Command Line
And more!
Total Access Admin runs as a stand alone program. Simply install, and you can manage all databases across your network that you have rights to see.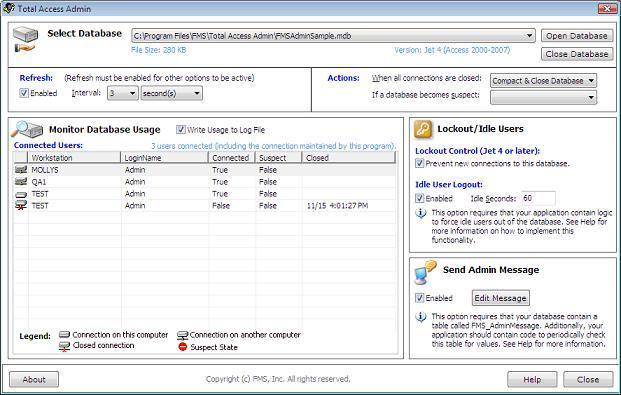 ---
What's New in the 2010 Version
The latest version of Total Access Admin introduces support for Microsoft Office Access 2010. This version supports databases in Access 2007-2010 database formats (*.ACCDB, *.ACCDE, *.ACCDA) as well as earlier database formats (*.MDB, *.MDE, *.MDA).
There is also support for the 32 bit and 64 bit versions of Microsoft Access 2010.
---
Important Preview Information
The Total Access Admin Preview is designed to provide you with an advance look at the product, as well as the opportunity to submit your requests and needs to the FMS development team before the product is finalized.
Keep in mind that the preview is pre-release software. Before downloading and installing the preview, please be aware of the following:
This preview software is not release quality, and it should not be used in production applications. Before installing or using, be sure to back up any important data.
Because this is pre-release software and is not fully tested, you should not use this preview version to send personal or sensitive information to your contacts. All use of this preview software is at your own risk.
This preview version will expire and cease to function on June 1, 2010. After the expiration date, you will need to obtain the retail version of the software. Contact FMS for more information on obtaining retail software.
The shipping version includes a professionally printed user manual which is not included here. The manual is available in the Preview version through the online context sensitive help.
---
Installing the Preview Software
To install the preview version of Total Access Admin, follow these steps.
Download the appropriate Setup File:

Total Access Admin 2010 Preview (32-Bit)
Total Access Admin 2010 Preview (64-Bit)

Run the setup program from your local computer.
Be sure to read the contents of the README file installed by the setup program for important preview information.
---
Uninstalling the Preview Software
Total Access Admin conforms to the Windows uninstall standards. To uninstall, simply:
Open the Windows Control Panel
Select Add or Remove Programs
Select Total Access Admin
Remove it