New Features Added to Total Visual Agent 2013
The latest version of Total Visual Agent is the Microsoft Access 2016 version.
This page is retained for legacy purposes. Visit the Total Visual Agent 2016 page for the latest enhancements.
The world's most popular maintenance scheduling tool for Microsoft Access/Office VBA and Visual Basic 6 (VB6) is now available for Microsoft Access 2010 and 2013. This is the eighth major release of Total Visual Agent and introduces many enhancements to automate maintenance chores easier than ever.
This latest version of Total Visual Agent builds on our vast expertise, and offers the best database management solution to date. If you have a version before Total Visual Agent 2007, see the new features added to Total Visual Agent 2007. Total Visual Agent 2013 includes the following new features and enhancements:
Support for Microsoft Access 2010 and 2013
Total Visual Agent supports databases created in Microsoft Access 2013, 2010 and earlier versions of Access. This includes ACCDB and MDB Jet database formats, plus Access Data Projects (ADPs).
Your machine must have a copy of Microsoft Access 2007 or the 32-bit version of Access 2010 or 2013 installed. If itís managing databases across a network, other users of the databases could be using the 64-bit version of Access 2010 or 2013. For information on getting a free Microsoft Access Runtime version, visit the FAQ page.
Support for 64-bit Operating Systems
Total Visual Agent can run on 32 and 64-bit operating systems. It supports Windows versions from NT through Windows 8.
Simplified Startup
When Total Visual Agent runs for the first time, you immediately enter the Options form to setup your environment. The form has been redesigned to simplify the entering of the installed Access versions, directory locations, and SMTP email settings.
Easily Manage Multiple Microsoft Access Versions
The new design makes it much easier to manage multiple versions of MS Access in a list. Total Visual Agent automatically loads the system with the location of the Access versions it detects on your machine. A check box lets you display just the installed versions of Access.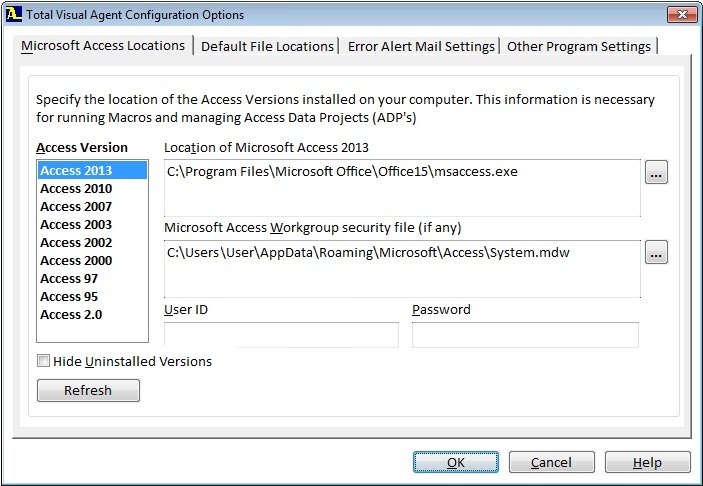 Import and Append Settings from Multiple Versions of Total Visual Agent

Previously, it was all or none. You could import the schedules created in an older version of Total Visual Agent or another instance of it, but it would replace any existing settings. By definition, you could only do it once.
Under the File menu, Import Manager Settings lets you add specifications from multiple instances without eliminating your existing settings. It automatically uses the existing database specifications if the managed database is already defined.
Test All Actions for an Event, Database, Directory or Task Group
Previously, only individual actions could be tested. You can now test all the actions related to every level. This makes it easy to test multiple actions across multiple objects to see if they work as expected.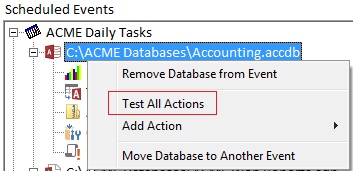 Create Events that Run Every X Minutes
In addition to specifying the number of minutes an event can run within an hour, you can now specify events that run for any number of minutes.
This lets you specify periods that donít divide evenly within an hour or for more than an hour. For instance, an event repeating every 17 minutes, or 90 minutes, or 360 minutes (4 hours).

Create Events that are Limited to Periods Spanning Midnight
Previously, you could only limit tasks that ran during the day (e.g. 2 AM to 6 AM, or 9 AM to 5 PM). Now you can specify a period that runs over midnight such as 10 PM to 2 AM:

Process Directories with Different Security Settings
When you select a directory, all databases within it are processed with the same workgroup settings and password. If any databases in the folder are specifically defined in your list of databases, they are processed with those database settings. This allows you to manage databases with different security settings and passwords in a directory.
Data Extract Tables are Keyed
For the Data Extract feature, the tables created in the database now have indexes similar to your original tables. Other properties such as the database tabbed document display are also replicated in the new database. Certain properties such as a table or fields validation rule are not copied because that may prevent the ability to save your data since data in your table may violate your current validation rules.
Run Macros for Database Password Protected Databases
A macro can now run on databases with a database password (different from a workgroup system file with user name and password). Previously, these databases would require a user to enter the password, which prevented unattended automation.
Pause for a Fractional Minute
For running Command Lines and Macros, your event can wait for a certain number of minutes while your process completes. Previously, only whole minutes could be specified. You can now enter fractional minutes so 0.1 is six seconds:
Compressed Archive File Names Support Multiple Extensions

Previously, when creating compressed files from Archives or Data Extract, the archive file was the name of the original file with a .ZIP extension. To support multiple databases with the same name (e.g. Sample.mdb, Sample.accdb, Sample.adp), the zip file now contains the extension and then .ZIP such as Sample.mdb.zip, Sample.accdb.zip, and Sample.adp.zip
See List of Selected Files for Directory Specifications
When managing a folder, a [View Matches] button lets you see the names and numbers of files currently matching your file specifications and exclusions in the specified directory and subdirectories.
More Detailed Activity History Log with Delete
The View, Activity History Log form show more information on the tasks that were performed and is displayed better.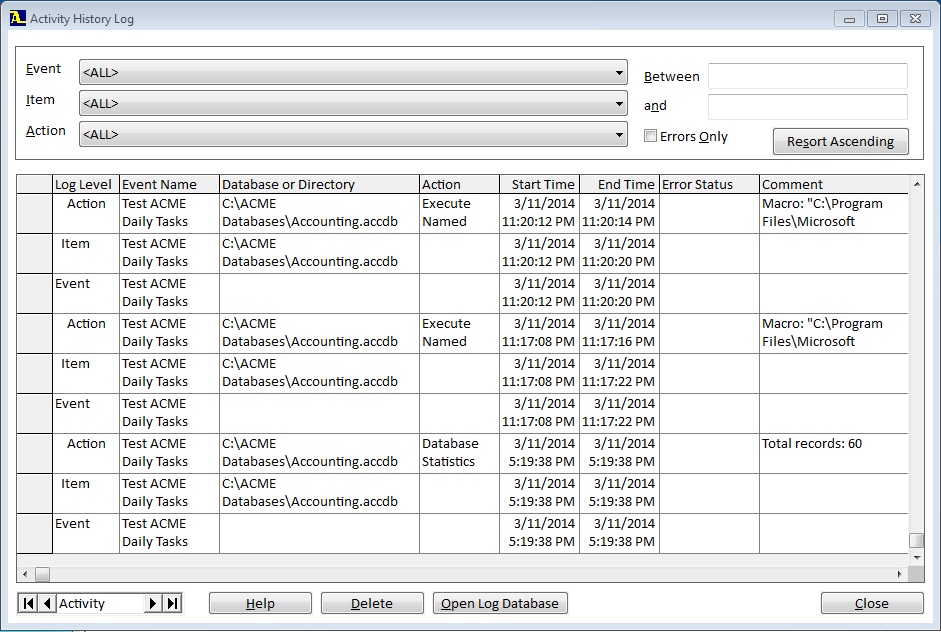 Enhanced Comments for Database Compact
The comments field now shows the original size, final size, difference and percent of space saved for each database thatís compacted.
Delete the Activity History Log
Previously, you had to go into the Total Visual Agent database to delete records from the Activity Log. Now you can do it from the form by filtering the list and press the [Delete] button.
More Detailed Database Statistics with Delete
The View, Database Statistics form shows the total number of records in the database and improves formatting to better see and compare the database contents over time. The table numbers now include separate Local, Linked, and System table counts.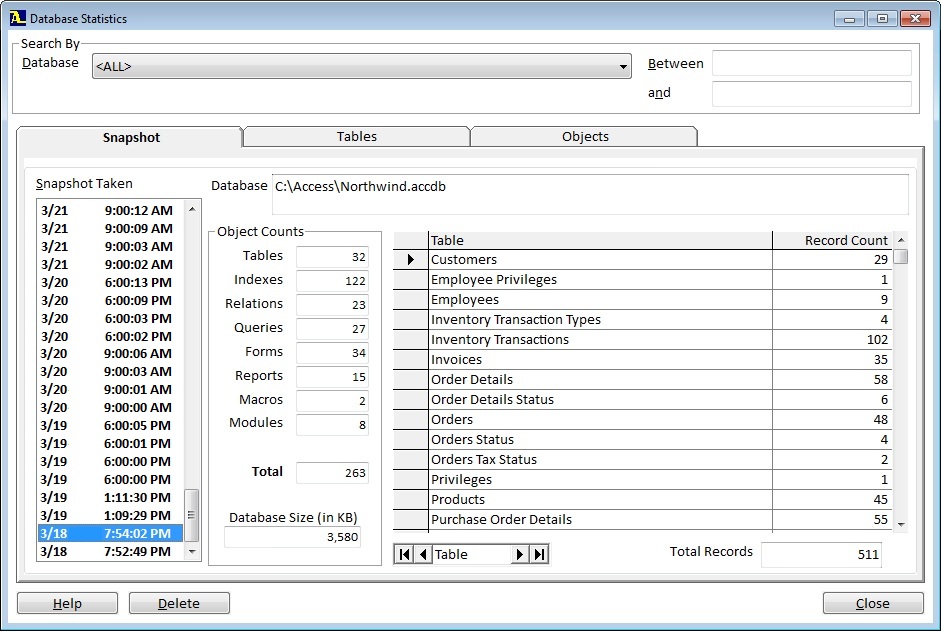 Delete the Database Statistics Snapshots
You can now delete snapshot data from the form. Select one or more of the snapshots and press the [Delete] button.
Compact the Total Visual Agent Settings Database
Even the Total Visual Agent database needs to be compressed from time to time. This is now an option from the Tools menu: Compact Settings Database.
More Modern and Improved User Interface
More modern fonts and graphics, and other enhancements make Total Visual Agent easier to use and understand. All the relevant forms can be resized and maximized, more menu items have shortcut keys, etc. New icons make it very easy to see which events are enabled or disabled: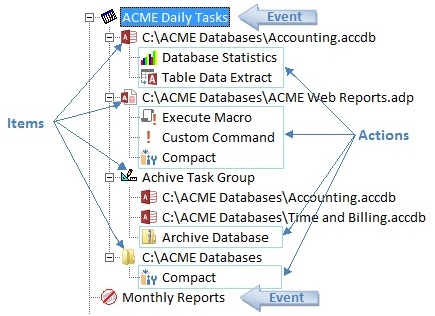 Add Your Comments to Events, Directories, and Actions
Add your own descriptions to better remember and manage your events, directories, and actions.
Simplified Addition of New Actions
Rather than opening a form to select a new action to add to an existing database (or task group or directory), the right click menu lets you select the new action to add and immediately set the options.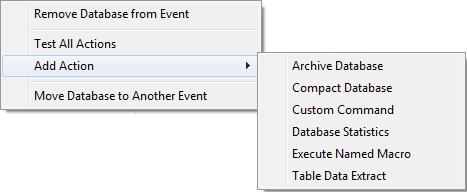 This is also available from the Schedule menu.
New User Manual and Help File
Total Visual Agent 2013 includes a new user manual and online help file to explain the new features.