Total Access Statistics for Microsoft Access 2007 (version 12.0) is its ninth major release. Designed specifically for Microsoft Access, we've added many features to support the new capabilities of Access 2007. Access users and developers can now perform even more numerical analysis within Access.
Since the release of Total Access Statistics 2003 (version 11.5) for Access 2003, we've added many new features. Many of the enhancements are also available in Version x.7 for pre-Access 2007 versions. Existing customers can upgrade for a nominal fee.
Supports Microsoft Access 2007
A cleaner, more modern user interface with support for Vista and Office/Access 2007 styles, fonts, color schemes, transparent buttons with icons, datasheets with alternating colors, etc.
Support for Tabbed Documents windows options including resizable forms
Enlarged screens show more options and fields to select.
Field data type names are now localized in non-English versions of Access.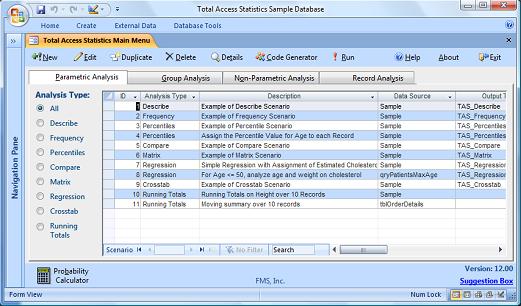 Main Menu of Total Access Statistics in the Access 2007 Tabbed Interface
Access Data Projects (ADP) Support
Data in Access Data Projects (ADP) can now be analyzed. Perform statistical analysis on your SQL Server data with results stored in SQL Server tables. Data sources can be views, stored procedures, and user defined functions.
Previously, Total Access Statistics only supported Access MDB/Jet databases which could be linked to SQL Server.
Use Parameterized Data Sources
All the statistical analyses now support parameterized queries as the data source. For ADPs, data sources may be stored procedures and user defined functions with parameters.
A new screen lets you specify the value for each parameter: