Total Access Statistics for Microsoft Access 2010
The latest version for Access 2010 is 14.1
This page describes the enhancements for 14.0 when the Access 2010 version was originally released, compared to the prior Access 2007 version.
Introduction
Total Access Statistics for Access 2010 (version 14) is the 10th major release of Total Access Statistics. We've added many features to support the new capabilities of Access 2010 along with a whole set of new financial cash flow calculations. MS Access users and developers can now perform even more numerical analysis within Access.
Supports Microsoft Access 32 and 64 bit Versions
The 64 bit version includes 64-bit versions for supporting Access 2010. It also includes a 64-bit ACCDE runtime library that supports all database formats supported by that Access version including ACCDBs, MDBs, and ADPs in Access 2010.
---
New Financial Calculations
A wide range of cash flow analysis features are now available. Use discounted cash flows to generate:
Net Present Value (NPV)
Present Value (PV)
Future Value (FV)
Internal Rate of Return (IRR)
Modified Internal Rate of Return (MIRR)
Date Dependent Internal Rate of Return (XIRR)
Date Dependent Modified Internal Rate of Return (XMIRR)
for periodic and date dependent payments and receipts
Analysis is available for regular (periodic) and irregular (date provided) cash flows to compare your investment and receipts. Here is more information on the Financial Cash Flow Analysis in Microsoft Access.
---
Revised User Interface and Help File
The user interface is refreshed to support Microsoft Access 2010 ribbons and graphic displays.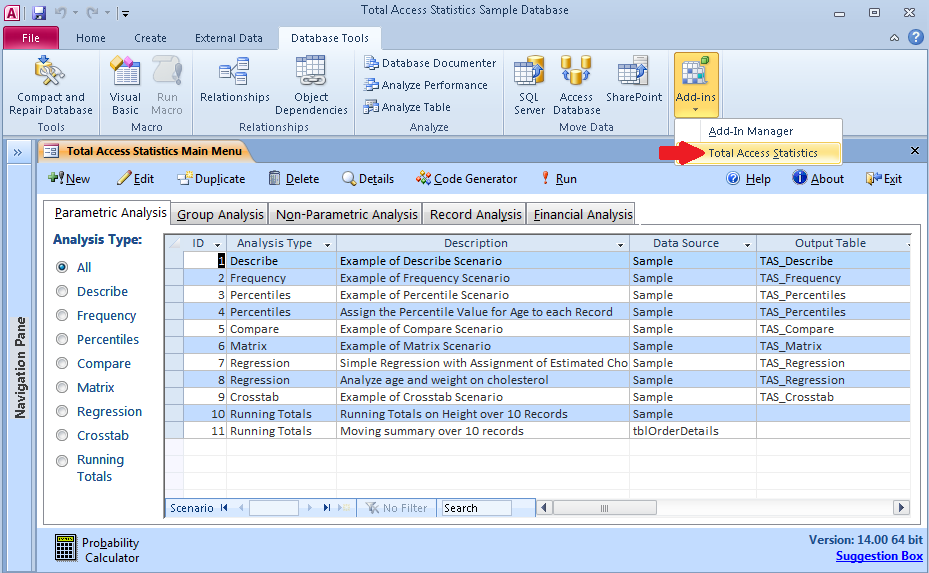 Main Menu of Total Access Statistics in the Access 2010 Tabbed Interface
The online, context sensitive help file has is also revised to include the information on the new features.
---
Comparison to Older Versions
If you are on a version older than Access 2007 (version 12), there were previous updates with many new features. Here's a list of past enhancements:
For more information, visit our entire History of Total Access Statistics Releases and Updates
---
Download the Trial Version
A functional demo version is available for you to try Total Access Statistics on your data. Download a trial version
If you want to look at how it works without installing the program and review the calculations it generates, get the help file for more details of these and other Total Access Statistics features (included in the trial download).