November 2019

For Microsoft Access, SQL Server,
Visual Studio .NET, and VB6 Professionals

---
Greetings!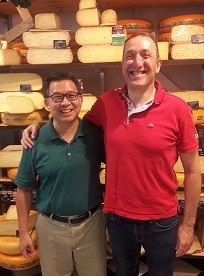 In the past week, we've dealt with a terrible Security Update that prevents Update queries in Access from running. An erroneous "Query is Corrupt" message appears for perfectly good queries. It impacts Access 2010 and later, and deployments of ACE. We've written an article and blog post about the issue with solutions to address it. This issue is evolving, so stay tuned for updates and alerts we've announced on our Facebook and Twitter pages. And let us know your experiences around this.
On a more pleasant note, in September, I had the honor and privilege of traveling to the beautiful and historical city of Amsterdam to speak at the Netherlands Access Developer Day. Daniel Polack did a wonderful job organizing his second Access conference with participants from several countries in attendance. Later in September, I spoke at the Portland Oregon User Group conference which also was well attended and fun to be around so many Access enthusiasts. Check out some of the photos that were taken at the 2019 Netherlands Access Developer Day and the 2019 Portland Access User Group conference! In between, I spent a week in Singapore helping a client, making it my first around the world trip. It was my first visit to Singapore and I was surprised how advanced it is and that it was entirely in English.
We are celebrating our 33rd year in business. We couldn't have done it without our amazing customers supporting us over the decades along with our dedicated and talented team. We look forward to celebrating many more years with you.
Our newsletter includes papers with tips for using Microsoft Outlook and Office 365 and a subset of recent news. For additional information, visit our News Announcements page and receive our latest notifications from our

Facebook page,

Blog, and

Tweets.
All the best,
Luke Chung
President
Contents
Upcoming Microsoft Access Conferences
---
Critical Alert! Microsoft Access Update Query is Corrupt
On November 12, 2019, Microsoft released a Security Update for Microsoft Office 2010, 2013, 2016 and Office 365 which causes perfectly good Microsoft Access Update Queries to fail.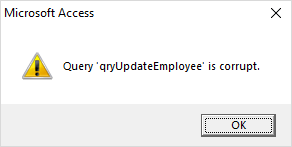 For more details on what is impacted and how to remove the offending Microsoft patches and other workarounds, visit our new page: Microsoft Access Update Query is Corrupt.
---
Happy 33rd Birthday FMS!
We are celebrating our 33rd year! Since we started in 1986, FMS is the world's leading developer of products for Microsoft Access developers and related technologies.
With tens of thousands of customers in over 100 countries, FMS customers are comprised of a variety of organizations from small to large including 90 of the Fortune 100 and every US federal government department. Our experience and processes for developing commercial off-the-shelf software deployed worldwide is applied throughout all our development efforts.
We at FMS want to thank you for choosing us and look forward to serving you in the future from the desktop to the cloud.
---
Email Aliases and Forwarding Microsoft Office 365 Messages to Another Mailbox

Our team at FMS has written step-by-step instructions on how to create Email Aliases and how to Forward Microsoft Office 365 message to another mailbox.

We hope this helps! If you have any suggestions or comments, head to our blog post!

For more information, visit Email Aliases and Forwarding Microsoft Office 365 Messages to Another Mailbox.

Managing Trusted Location with Microsoft Access

Many problems with Access can be the result of permissions and security. Especially for network databases in Active Directory domains. One thing to always check is that the file path of your database is added to your Microsoft Access Trusted Location.

The FMS team has written a support page on how to manage this. For more information, visit Managing Trusted Locations with Microsoft Access.
---
Support for Windows 7 Discontinuing Soon

Microsoft has announced they are discontinuing Windows 7 support on January 14, 2020. After that, technical assistance and software updates from Windows Update that help protect your PC will no longer be available for the product.

Microsoft strongly recommends moving to Windows 10 before January 2020 to avoid needing service or support that is no longer available.

For more information, visit Windows 7 end of Support and Office.

Delay Sending Your Emails in Microsoft Outlook 2019 and 2016

Have you ever sent a message in Microsoft Outlook and immediately wished you could get it back? Do you remember something you need to change immediately after pressing Send? Maybe a related email came in while you composed your message. Maybe you forgot to add the attachment you mentioned in your email.

Or maybe you just need to cool down and reflect a little more before sending your message. Having the ability to stop and delete that message could save your job, relationship, or client! Our FMS Development Team has you covered! Check out how to Delay Sending Your Emails in Microsoft Outlook 2019 and 2016!
---
Upcoming Microsoft Access Conferences in 2020
Microsoft Access Developer Conference in Vienna, Austria
April 25 - 26, 2020
Fellow Microsoft Access MVP Karl Donaubauer is hosting the fourth annual Access DevCon in Vienna, Austria.
The DevCon is two days packed with presentations in English by experts from Europe and the USA, an opportunity to get the latest news on Microsoft Access, see advanced techniques and thrilling real world applications, as well as meeting colleagues from all over the world.
To find out more, check out the Access DevCon website.
---
Portland Access User Group Conference
October 10 - 12, 2020
Silver Falls State Park, Oregon
The Portland Access User Group Conference is returning to the Conference Center at Silver Falls. The peaceful, natural setting of Silver Falls State Park lends itself to a climate that fosters learning and creativity.
The weekend event brings together some of the top Microsoft Access developers, enthusiasts, and Access development team members.
Registration begins in June 2020. To find out more, check out the Portland Access User Group website.
---
Visit our Upcoming Events page for other activities.
---

Microsoft Announcements and Resources
Additional FMS Resources
Your Opinion Matters
Our newsletters are designed for you. To help us provide better service, please send us your suggestions and comments about "The Buzz", as well as our products and services.
See something useful you'd like to see more of it? Want more Microsoft updates?
Please Contact Us with suggestions, comments, or requests.
Past Issues of the BUZZ
Have you missed a past issue of our Buzz email newsletter?
You'll find recent issues conveniently archived for easy retrieval. Get all the tips, news, product updates, and more! (Past Issues)