Total Access Components 2010: New Features

The world's most popular collection of custom controls for Microsoft Access is now available for Microsoft Access 2010 (which also supports Access 2013 and 2016).
Total Access Components 2010, Version 14, has a number of significant enhancements from the 2007 version:
Supports both 32 and 64 bit Versions
Microsoft Access 2010 and later is available in 32 and 64 bit versions. ActiveX controls are either 32 or 64 bit and must match the MS Access version selected.
Total Access Components 2010 includes two sets of controls:
The 32 bit version supports Microsoft Access 2000, 2002, 2003, 2007, and the 32 bit version of Access 2010, 2013 and 2016.
The 64 bit version supports the 64 bit version of Access 2010, 2013 and 2016.
Compatibility Across 32 and 64 bit Versions
Both versions are compatible with each other. Use the controls from Total Access Components in your MS Access application and automatically run it in the other version without any changes. Your users simply need to have the appropriate version of Total Access Components on their machine. Separate 32 and 64 bit redistributable programs are included for to deploy them to your users.
New Technology Platform
To support both 32 and 64 bit environments, Total Access Components 2010 was upgraded from C++ version 6.0 to version 10.0.
Enhanced System Information Control
A new property, FreeMemEx, is available for the System Information control to support larger values when returning the systemís total free memory. A new Constant value, TacmSys8664, is available for the System Information controlís CPUType property. This value is returned for 64-bit processors.
Enhanced Sample Database
The Sample Database is significantly enhanced to demonstrate all the properties, methods, and events for each control.
---
Features Added with the 2007 Version
The following features were added with Total Access Components 2007. They are included in Total Access Components 2010 for both 32 and 64 bit versions.
New Cursor Control
With the addition of the Cursor control, Total Access Components now offers 30 ActiveX controls. The cursor control lets you specify a custom graphic as the windows cursor when you want an alternative to the standard arrow or hourglass.
Significant Enhancements to Existing Controls
Many of the controls are enhanced with more features, a more modern appearance to support the look of Windows XP/Vista/7. These include:
Menu Enhancements
Icon Menu
The
Icon Menu control
makes it easy to add icon menus like the one used in Outlook. Several new features were added:
Word wrapping on button text
Customizable font, style, foreground color, and background color
Supports Windows XP styles and themes
Popup Menu
The Popup Menu control adds customized right-click context menus to your forms. This control now supports Windows XP styles/themes, and allows customization of each menu itemís font, style, and color. You can even add your own icon for each item.
Visual Enhancements
Analog and Digital Clocks

The analog and digital Clock control displays clocks in a variety of styles. These new features were added:
Support for background images
Option to specify the clock time
Support for additional hand styles
Ability to show or hide hour ticks
Support for Windows XP styles/themes with smoother lines for a sleeker appearance
Enhanced Command Button
The Enhanced Button control is a command button with a variety of text effects, bitmap, and toggle styles. This control includes a new option to display a Hyperlink Hand cursor when hovering over the button.

Gauges
The Gauge control displays information in a graphical format that is easy to understand. This control now supports background images so you can provide your own picture for the dial.

Scrolling Marquees
The Marquee control displays text scrolling left, up, right, or down. This control now supports word wrapping and Windows styles/themes.
Progress Meter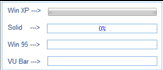 The Progress Meter control provides visual feedback showing values relative to a range or % of completion. This control now supports Windows XP styles/themes, and allows larger values.
Rotated Text
The Text Effects control displays rotated text with custom display styles. This control now supports word wrapping, options for text location, and Windows XP styles/themes.
Form Design
Notes Control
The Notes control adds popup notes to your forms to simplify viewing and editing memo fields. This control now supports Windows XP styles/themes and a variety of text locations.
Timer Control
The Timer control allows you to add multiple timers to forms. This control supports larger interval values.
Window System Enhancements
Clipboard Control
The Clipboard control lets you invoke the Windows Clipboard without using Windows API calls. This control is enhanced to support copying and pasting bitmaps, in addition to text.
Common Dialog Control
The Common Dialog control lets you easily invoke Windows common dialogs from your application. This control supports Windows XP and Vista system commands and options.
The help file feature of this control now supports Compressed HTML Help (*.CHM) files in addition to the traditional *.HLP help files.
Additional Enhancements
Many other documentation and enhancements were made to improve performance and stability. To help you get started right away, the Sample database is redesigned to provide examples of every property, method, and event of each Total Access Components control. A new 158 page, professionally printed user manual is also available.
---
Pricing and Access Versions
Total Access Components Pricing
for Microsoft Access
Single
$199
Buy Now
Buy Now
5-Seat
$599
Buy Now
Buy Now
Single
$119
Buy Now
Buy Now
5-Seat
$349
Buy Now
Buy Now
Single
$299
5 Seat
$999
Total Access Ultimate Suite

Royalty-free runtime distributions rights are included in the purchase price.
Add Total Access Components to your databases and distribute them to non-Total Access Components owners.
Total Access Components is licensed on a per developer basis.
Each developer who inserts Total Access Components controls into applications must have a license.