Get Rid of Unused Objects and VBA Code in Microsoft Access Databases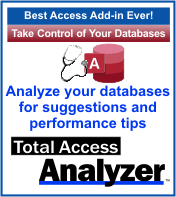 After the development process, the typical Microsoft Access database is riddled with temporary objects, test code, sample data, prototype forms, unused incomplete components, and more. But you can't delete objects safely unless you know where they are used.
Total Access Analyzer does the work for you by examining all your objects, documenting where they are used, and flagging the ones that aren't referenced so you can easily identify:
Unused Microsoft Access Objects
Tables
Queries
Forms
Reports
Macros and sub-macros
TempVars
Unused VBA Module Code
Procedures
Constants
Variables
Classes
Class properties
User defined types and type elements
Enums and enum elements
Unreferenced Variables
Variables assigned a value but never referenced (why have them?)
For more details, visit: Finding and Deleting Unused Access Objects and Code
Use Total Access Analyzer to help you eliminate junk and clean up your MSAccess databases!