Professional About Boxes to Microsoft Access with System Info
Give your application a professional look by using the standard Windows About Box. The About Box control lets you easily display your text, graphic, and user information. You can optionally supply a help file and launch the Windows System Information program, just by setting some properties: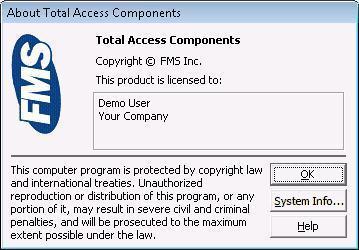 Customizing the About Box
The About Box has several properties for displaying your text:
Title
Application name
Copyright text
Licensee information such as user name, organization, serial number
License text
You can also set:
The font for the text
A graphic picture in bitmap, JPEG, or icon format
Help file and context ID, if any
System Information Button
When you enable the System Information button, the user can see their hardware and software environment. This can help you diagnose issues with their machine and configuration.